Art Projects
Crafts
SensoryAll AgesColors
Indoor ActivitiesLeave a Comment
Combine sensory play with creative thinking with a fun play dough art activity from Lisa!
My kids love to create with play dough. It allows for hours of open-ended, creative play.
I thought it might be fun to make a big batch of white play dough so they could have their very own play dough canvas to color on!
Super Simple Sensory Play Dough Art Activity for All Ages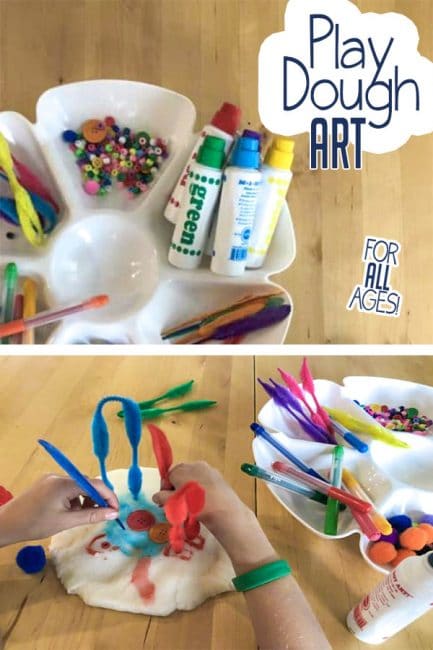 For this play dough art activity you'll need:
white play dough
markers or bingo dabbers
craft supplies: pom poms, feathers, small beads, glitter, pipe cleaners (optional)
I decided to make a fresh batch of play dough. I just left the color out of my tried and true recipe. Here's how to make homemade play dough that is so easy and soft!
Try this no flour needed recipe for your next homemade play dough.
I love setting up activities for my children as an open invitation to create and explore. I simply put everything on a tray and let them decide what they want to do.
For this activity, I set out the markers and bingo dabbers along with the white play dough.
I also set aside a few craft supplies we had on hand to heighten their creative experience. These are items that I have on hand to pull out when inspiration strikes.
Check out our favorite supply closet staples!
Now it is time to let your children explore! Because I didn't give my kids any instructions about the activity, I got to really see how their minds worked and created.
Exploring and Creating with Your Play Dough Art Activity
My children rolled their play dough out flat before they grabbed any markers or creative art supplies. They immediately went for the markers and bingo dabbers.
My eight year old drew a portrait.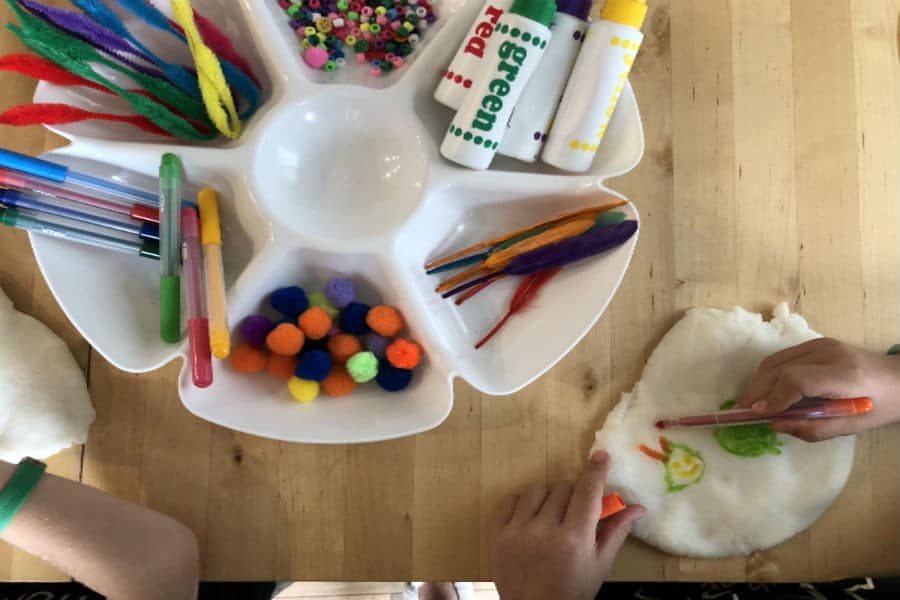 My youngest explored with the different makers and bingo dabbers, stamping and drawing lines as he went.
He also added a few of the craft supplies to create more of a 3D image.
I loved hearing him explain his creation out loud as he went.
My children loved experimenting with the different textures that the markers and play dough made together.
After my oldest had covered the surface of one side of his play dough with his portrait, he flipped it over and started creating on the other.
I love how much independence they had coloring play dough. This play dough art activity kept them busy for well over one hour!
Once they were all finished, they were excited to squish the play dough together.
They loved the rainbow marble look of the squished play dough as they created one big ball. They ended up creating and playing with the big ball for a few more minutes, too.
This was such a fun and engaging activity for both my boys. It's the perfect activity for kids from preschoolers to elementary age.
What are some fun activities or crafts that you have created with play dough? Share your fun ideas in the comments!