Activities
Crafts
Spring
SummerToddlersGrade SchoolKindergartnersPreschoolersEarth Day
Family
Nature
Outdoor5 Comments
Want activities to make use of all those rocks and sticks your kids bring home for a nature collection?
Look no farther, we've got a bunch!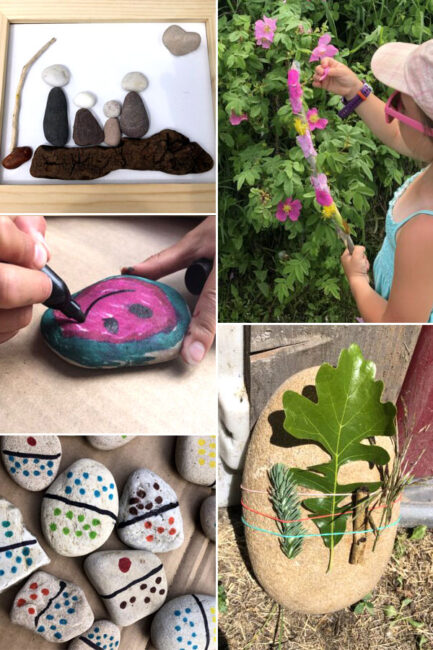 Let's face it, what kid doesn't like to play in nature. Mine love exploring outside.
If your children do too, here is a whole week of nature activities that your children are sure to love, as well.
I've been finding rocks and sticks everywhere lately!
Have you?
I'm sure you've heard this phrase multiple times before… "Wow, look how cool this rock is. Can I keep it?"
With these nature collection activities, you can finally make use of all those rocks and sticks your children love to collect.
In fact, some of these activities will focus your child's attention so they are looking for more specific details in the nature items they find.
Nature Collection Rock Weaving
This nature collection activity involves exploring but also practicing fine motor skills, too.
First, have your child pick out a large rock.
You may want to carry it to a central location for them if the rock is too heavy.
Have your child put elastics around the rock.
Then send them on a hunt to collect things that they can weave or place under the elastics on the big rock.
My girls were so proud of their creations! Their smiles were priceless.
Nature Collection Magic Wand
First, take your children on a stick hunt.
This can be an adventure in itself!
Or pull some sticks out of your kids already growing nature collection.
Of course, my youngest had to pick up the biggest stick she could find.
Next, wrap some packing tape around the stick (sticky side out). Ensure you leave a space at the bottom, so the kids can hang onto the stick.
Then, your off on another nature hunt to find items to place on the stick.
Leaves, flowers, grass, and bark are all just a few of the treasures my kids found to decorate their wands.
Once the kids sticks are covered, they have completed their magic wand.
At this point, my girls instantly started to pretend to turn things into other things…magic!
Who would have thought that a stick could turn into something so magical.
Here is another super simple activithy using contact paper and nature: Craft a Pretty Nature Collage Suncatcher for Toddlers.
Kids Nature Collection Rock Art
This nature collection activity was so not only fun for my kids but was also fun for me.
We made a family photo using rocks and sticks!
Let the kids be creative here.
They could be in a boat, on top of high rocks, climbing mountains, or even fishing in the picture.
You could also even add pets.
Just a note, we used tacky glue to place everything onto a canvas panel to make our family photos.
Have fun with this! We sure did!
Nature Collection Rock Dominoes
My girls love to play dominoes!
In fact, we own multiple sets (some with dots, some with pictures and even some with letters and sight words).
One day as we were down at the lake, a thought came to me as my girls were collecting rocks for the millionth time.
Why not make rocks into dominoes?
To make our set, we used colored sharpie markers.
The girls were so excited that they had to help too.
Hence, why some of the domino dots are a little off. However, this turned out to be awesome bonding time for us!
Rock Coloring and Hiding
This last nature collection activity is my kids all time favourite.
They will do multiple times every summer.
To do this activity, have your children color rocks with colored sharpie markers.
They can create anything.
The possibilities are endless.
If you have older children, they could also write words of encouragement on their rocks.
Next, go to a local park, trail, or campground.
Have your children hid the rocks in random places for other people to find and treasure.
Like I said, my girls will do this multiple times.
Once their rocks were all hidden this time, they already wanted to collect more to color.
Use those rocks and sticks your child has collected and make some activity memories.
Go ahead and give one or more of these a try! Share your experiences with us. We'd love to hear them.