Crafts
ScienceToddlersPreschoolersGrade SchoolNature
Outdoor
Painting5 Comments
Creating your very own kids walking sticks are a fun and easy art project that leads to more fun on summer hikes or walks around town!
I'm not sure if you've noticed or not, but we haven't been doing much for activities right now. School just got out, and summer is in full swing. And honestly, we're just enjoying the days!
The boys have this enormous sandbox, and a dirt patch that they've been digging in for weeks. They don't want to be bothered, and they're perfectly happy playing.
What I have been sharing on the blog these couple of weeks are activities we've done in the past.
For those of you that are new(er) readers, I hope you'll find them refreshing.
And my long-time readers, I hope it wasn't annoying to see them, I just hope they inspire creativity when you need it. But maybe they weren't something you've seen yet either.
We have recently made a few walking sticks for the summer though.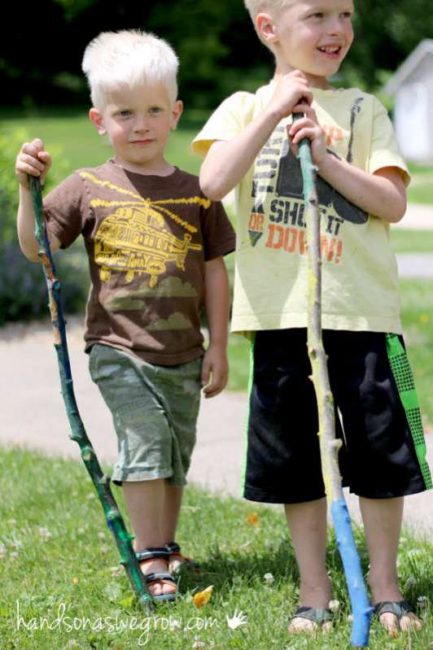 We have a giant backyard with wooded land. Dad takes them up there quite a bit, and a kid-sized walking stick should come in handy!
Of course, we had to give their walking sticks a new look.
Each kid make their mark on their sticks so they could find theirs out of the mound of other sticks that usually drag around the yard.
We searched the woods for the perfect sticks. And honestly, it was hard to find good ones!
My husband recently trimmed up our crab-apple tree and had a few nice sized branches that he piled at the edge of the woods. I trimmed them up (using my awesome loppers! – affiliate link – I love that tool!) to be just the right size for each of the kids.
I just cut it the right height (about shoulder height or so) and cut all the twigs off that were branching out.
Depending how serious you want to get, you could also sand down the stick and make it smooth. I wasn't going to take it that far. We'll see how much they get used this summer and if needed, we'll make more and take the time to do that.
Then it was all up to the kids to create a walking stick to their desire.
The kids walking sticks ended up unique to each of them. Which was easy enough.
I thought I might have to label them, but they each painted their walking stick fairly different, so there's no trouble identifying whose is whose.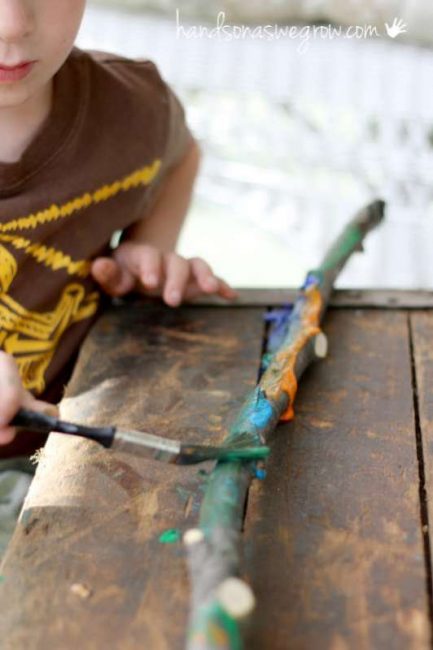 We just used the paint we had on hand, but if I were to go buy some, it would have been something non-washable.
I absolutely love our Crayola washable paints (affiliate link), but it'll wash off in a heartbeat if these get left out in the rain.
I just made that clear to the boys so that they will take care of their walking sticks this summer (and maybe actually put something away for once)!
We took this art project out on our porch. I didn't care to bring in sticks into the house.
See where we got our awesome paint palette and what its really used for.
I wanted to make that really clear that these sticks belonged outside.
Plus, by doing it on the porch, cleanup was really easy. I just hosed off the porch and table. It needed that anyway!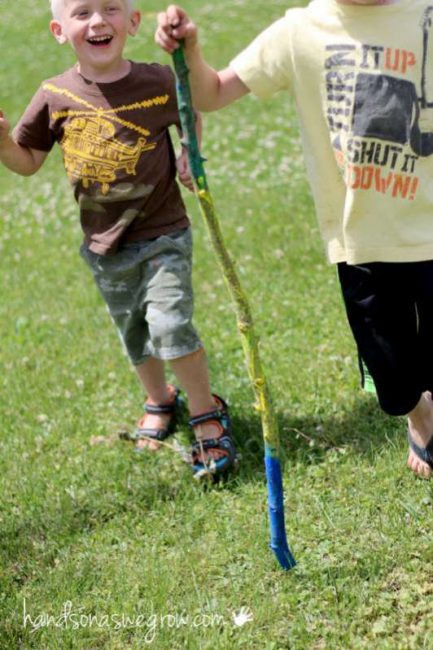 Louis even joined in decorating his own walking stick. We painted it together.
He may have played in the paint more than painting it on the stick though…
They've already been used a lot around the yard and even for walks downtown to the bakery.
I think they're kind of nervous about someone taking them when we make them leave their sticks in front of the bakery instead of taking them inside.