WinterPreschoolersGrade SchoolKindergartnersButtons
Window9 Comments
DIY your own cute icicles - made out of buttons! We love this creative winter craft for kids!
We've finally had a good snow here in Iowa and I feel like I can finally get into winter crafts for kids and snow-themed activities. Even though it's been winter for a while, it just hasn't felt wintery, if you know what I mean.
Since it's finally really snowy, we decided to bring some winter inside with a cute button icicle craft. And shh… I snuck in a little learning, too.
Adorable Button Icicles Winter Craft for Kids
It's been a long time since we've done a button craft. And they're always a favorite.
It's hard to go wrong with them, buttons make everything incredibly cute.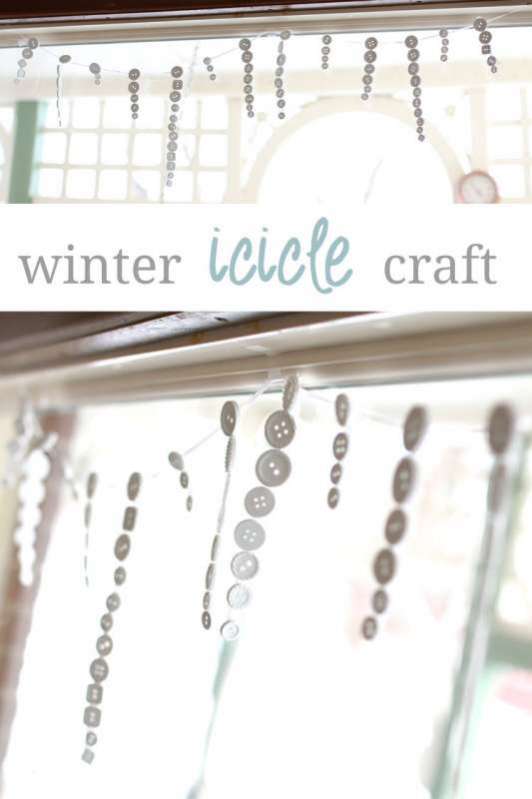 To DIY your own button icicle winter craft for kids, you'll need (affiliate links):
Each icicle was quick to make. But it took a lot to fill up the window!
Discover 28 more chilly crafts kids will love!
I recently got in the button mood when I was shopping and bought a couple of packages of buttons. One in all white since winter was upon us. I figured I'd find something to do with them.
And this icicle craft was the perfect – and cute – way to use all my new buttons!
I happened to have some white ribbon on hand, but really any color ribbon will do. Rainbow colored icicles would be so pretty!
Build Fine Motor & Counting Skills with a Cute Button Craft
The boys each cut different lengths of the ribbon. I love any time that I can work a little bit of scissoring skills into a craft!
They decided how long their icicles were going to be. You could sneak in some extra learning by using a ruler or measuring tape to figure out the different lengths.
Then they did a "dry run" with the buttons. George and Henry lined up the buttons on their pieces of ribbon.
Like an icicle, it starts big at the top and gets smaller towards the end. They lined up their buttons the same, big to small.
It's a great time to talk about sorting and size. That's the sneaky learning part!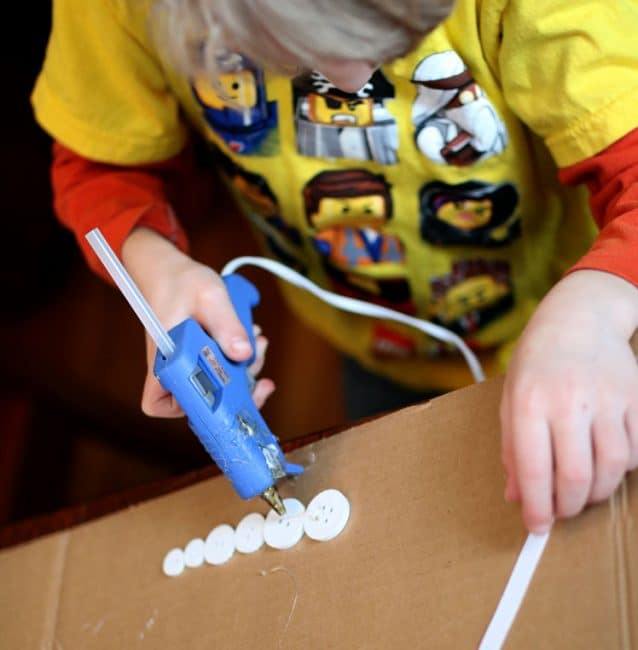 Hot Gluing a Chilly Winter Craft for Kids!
It was then time for the fascinating part: hot glue.
The boys hot glued the buttons onto the ribbon. Actually, it was the other way, the ribbon onto the buttons.
Once they got their lineup of buttons how they wanted them, they flipped them over in a line. They added a dot of hot glue onto the back of each button and pressed the ribbon down.
Reminder: hot glue guns are, well, hot. Go over the no-touch zones and about the danger of burns.
Tip: We also used craft sticks to press down the ribbon instead of using our fingers!
We set aside each icicle the boys made to dry fully.
DIY Kid-Made Icicle Garland for Winter
Even though we'd made each individual icicle, we still weren't done with our winter craft for kids!
I hot glued each icicle craft onto a longer piece of ribbon. I eyed it a little to evenly space it, but I didn't want them perfectly spaced apart.
Then our icicle garland got hung in the front window to display for the winter!
It looks so pretty, especially with the white snow in the background.
We love playing in the snow! Try these easy ideas to get start at your house!
What are your favorite winter crafts for kids to make? Share your creativity with us!