Learning
Move & LearnPreschoolersKindergartnersColors5 Comments
This is a simple activity to connect the colors of paper with yarn in the same color. Its a more laid back activity, without getting the kids too wild, but still get kids up and moving. Which is great for when you have sick, but not really sick, kids around.
I set up this giant activity to learn colors on our rug, but it can be done in any area that you have space.
I chose a few colors of yarn that I had on hand and then found 4-5 sheets of construction paper in each of those same colors.
Then I called the boys to help me haul canned food from the pantry.
When you're done with this activity, use the canned food to do this fine motor rubber band activity too! Its a hit with kids!
I set out the colors of construction paper, spacing out each color (so they're not all right next to each other) and placed a canned food on top of each piece of paper.
The canned food is for the sole purpose of wrapping the yarn around. Nothing more. No need to get color coordinated cans of food!
Then it was time to connect the colors of paper with yarn.
Henry chose to start with blue.
I tied the end of the yarn onto the canned food of the first piece of blue construction paper.
Henry then went through the 'maze' of the papers and wrapped the yarn around each canned food that was on the same color of construction paper.
George followed right behind using the green yarn, matching it with the green pieces of construction paper.
George struggled with unrolling the yarn in the correct way, he kept just rolling it whatever way it was, without knowing he was actually wrapping the yarn back up, which tightened the string, pulling it out from under the cans.
When they got through all their colors, they connected the yarn back to the first can they started with for that color.
Then they did the final colors, pink and red.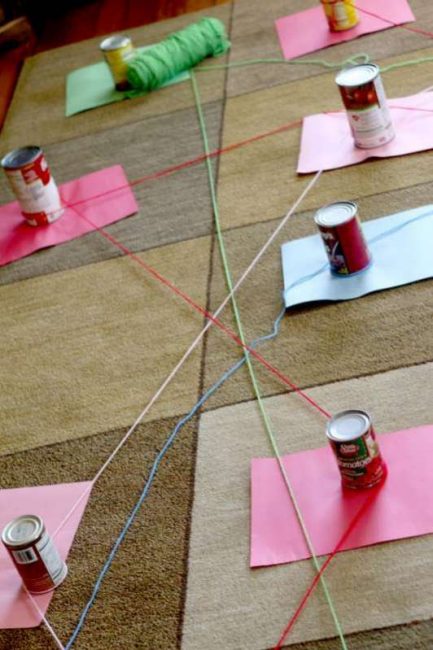 This was an activity that got them moving when we've been sick, without taking up too much energy (when we're sick, we don't necessarily want to be jumping around). Since they have been sick, I didn't want to push their little brains too much, my boys already know their colors so it was more about the easy moving than learning the colors.
Next time I'd like to add numbers to the construction paper and they can count their way through, instead of matching colors.
They were so proud!
Henry told me to go straight to the computer to share these photos. He wants other kids to do this activity! I'm sure he would be excited to see if you do it, so please share a photo of your kids on our Facebook page if you do!
It's been awhile since we've done a move and learn activity, but hopefully we can get back into doing it again every week!
More move and learn ideas from my co-hosts: