LearningPreschoolersBusy Play
Memory3 Comments
This is a fun memory activity to boost kids minds. You can use any objects and then just remove one to see if they can guess what's missing. Its a great busy activity when you need it.
I owe this wonderful memory activity idea to my amazing Facebook fans. I shared a post on Facebook about how to keep kids busy while you're waiting at a restaurant from Mama Scouts, it has 10 fantastic ideas!
One of the fans on the hands on : as we grow Facebook page mentioned that they play the "What's Missing?" game, a memory activity, while they wait for their food.
Brilliant idea! We've been doing it at restaurants using the silverware, crayons, and whatever else we can find.
I also did it at home with George using Mr. Potato Head parts.
You can use whatever it is you have on hand. A few toys. Some colored blocks, or different shaped blocks.
Wow! Think of the learning potential there. You can focus on learning colors or shapes, or even numbers and letters if you'd like with them written out on cards. Or even sight words! Oh, my mind it churning now with all the possibilities! Keep an eye out for those to come!
With Mr. Potato Head, I set out a few of his parts on the floor.
This is a great activity at a restaurant or at home while you're making dinner. Try this rubber band fine motor activity to keep the kids busy too.
George would cover his eyes and I'd remove one.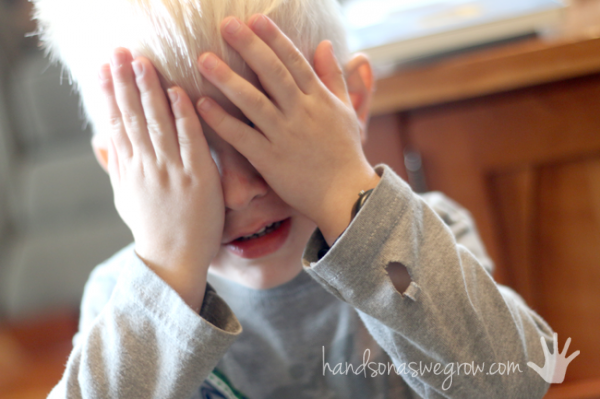 George would then guess what part of Mr. Potato Head I took away.
We took turns and he took a part away too for me to guess which one he took.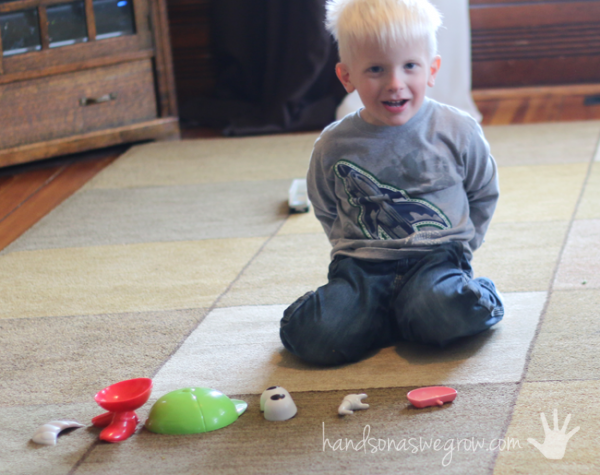 That was kind of easy for him.
I made it a little more complicated… I started moving the Mr. Potato Head parts around when he covered his eyes.
This stumped him.
He'd look at the parts and be ready to guess and then stop himself as he spotted it elsewhere…
Sometimes we'd remove two parts too. It was fun to see how difficult he could go.
For restaurant play, we kept it simple it about 6 items. Its for fun and to keep the kids busy, I don't want to stump them there!
It's has a really fun game to play! George sometimes gets silly and removes ll the body parts for me to guess. Silly boy.