Christmas
Crafts
Fine Motor
ThinkingToddlersGrade SchoolKindergartnersPreschoolersChristmas Tree
Nature
Size
Sorting3 Comments
This simple DIY rustic Christmas stick tree ornament is an easy and hands on gift for your children to make this time of year.
The holiday season is full of so much tradition. And handmade ornaments are such a special gift!
We love making a new rustic or DIY ornament every year to hang on the Christmas tree and gift to the grandparents.
This year, we decided to incorporate nature into our ornament and create this simple fingerprint stick tree ornament.
My little one had so much fun making it!
For This Rustic Stick Tree Ornament Craft, You Will Need:
Twigs
Large Popsicle Sticks
Wood Glue or Hot Glue Gun
Yellow Paint
Paper, Scissors
Collect Supplies for Your Stick Tree Ornaments
I love activities that can be stretched into different stages.
We first started by collecting twigs for our stick tree ornament from the park near our house.
Wonderful family gross motor fun.
My little ones love gathering different materials when we are out playing. So this was really fun for her to bring the twigs home!
There are so many simple ideas that you can use nature collections in for your activities!
Sort Twigs From Biggest to Smallest
Once back home, we sorted through the twigs we collected for our stick tree ornament and broke some into smaller pieces.
This was such a fun process for her while at the same time strengthening her hand muscles and fine motor skills!
I love this idea for an easy fine motor threading ornament for little ones too!
Once we had enough twigs, we then arranged them from biggest to smallest, starting from the bottom.
This is such a great way to practice number counting and simple math too!
Sorting by sizes is great for strengthening your child's thinking processes.
DIY Your Rustic Stick Christmas Tree Ornament
We initially use wood glue to secure the twigs to our popsicle stick.
But found we needed hot glue to ensure that they really stuck.
My four year old has worked with hot glue before in our previous crafts together.
With that in mind I felt comfortable operating the gun while she stuck the twigs onto the popsicle stick.
Add a Fingerprinted Star to the Top
Once we had all the twigs glued, I quickly traced out a star on paper to put our finger print on and glue to the top of the stick tree ornament.
She chose to do her thumbprint in yellow paint in the middle of the star.
This part always makes my children giggle!
You could just leave the star as is with only the fingerprint.
However, my four year old wanted to color in the rest with a yellow marker.
It does make the fingerprint not stand out as much, but I am all for personal creation and expression so ahead she went!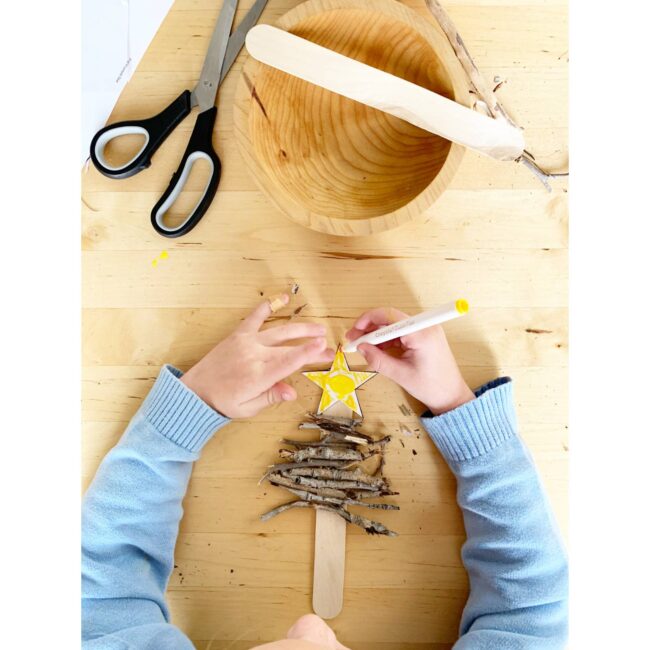 Final Touch to Your Christmas Stick Tree Ornament
To finish the stick tree ornament off, I took a piece of yarn and made a medium sized loop, gluing the ends to the back of the popsicle stick.
I wrote her name, age and year on the back for memory keep sake.
You could also do this on the front too – whichever you prefer!
She was so excited to gift this rustic stick tree ornament to her grandparents for Christmas! And what a beautiful memory to have to hang every year.
My parents still have many of my handmade ornaments from when I was a child!
Share with us.
Have you ever created a hand made ornament? If so, have they stood the test of time?
What are some of your other holiday traditions that you create or participate in every year?
I would love to hear!