Christmas
Fine MotorToddlersPreschoolersfine motor skills
SensoryLeave a Comment
This Christmas activity from Lisa encourages little ones to use and practice fine motor skills and hand-eye coordination, all while having fun!
Fine motor transfer activities are great independent challenges that your toddler or preschooler can do on their on that requires minimal setup.
My preschooler loves transfer activities and repeated tasks. It allows him to refine his concentration, coordination, and independence.
This simple Christmas tree transfer activity will keep your child busy in the best of ways, and has an added fun sensory element through jungle bells!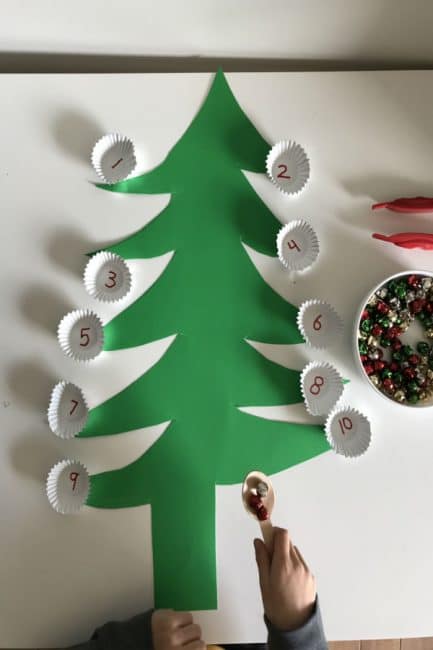 For this activity you will need:
Green construction paper or poster board
Muffin liners (I used a mini size but you could use regular size if you are creating this on a larger scale)
Mini jingle bells (I purchased mine from the Dollar Tree)
To begin, I drew an outline of a Christmas tree with pencil on a large green poster board. I then cut out the outline and secured it to a flat surface.
Then I asked my son to help place the mini muffin liners on each point of the Christmas tree. These would be a target point for him to transfer.
All the jingle bells went into a bowl with a spoon for transferring. If you wanted to make this more difficult, you could use large tweezers for your child.
I used jingle bells as I loved the added sensory element of the bells ringing as he scooped and transferred. You could also use colored rice, pom poms, pasta, buttons….anything that you have on hand in your home!
My son sat down and knew immediately what he had to do. He loved having the freedom to scoop and fill the muffin tins with as many jingle bells as he liked!
He finished this
quickly
, so I decided to add some different challenges for him.
Add even more fine motor practice!
I love this activity because there are so many ways in which you can change it to meet your child's needs!
If you are working on number recognition with your child, mark each muffin tin with a number on the bottom. Have your child place the correct number of transfer items in.
This was my son's favorite option that I presented to him. He ended up counting the jungle bells out loud and by hand, and then placing them on his spoon to transfer.
If you are working on color recognition, color the bottom of each muffin liner. Have your child place the correct transfer item with the correct color.
My son already knows his colors, so this was reinforcement for him. He still loved having to sort through the bowl of bells with his spoon to retrieve the correct one!
I think using colored pom-poms instead of jingle bells would be fantastic for this
color sorting
version!
I leave activities like this out for a few weeks which allows my children to take part when they feel like it
. They usually gravitate towards them many times a week!
What are some fine motor transfer activities that you have done in your home?