Fine Motor
Literacy & ABCs
Move & LearnPreschoolersLetters
Writing Activities6 Comments
I couldn't shake the idea of doing a big connect the dots for a move and learn activity.
George did a simple connect the dots that's great for preschoolers, or beginners, that don't quite know their numbers yet. Its great for fine motor skills and working on writing.
But I wanted one that could get him moving and learning.
We did the giant connect the dots to connect the colors, but didn't work in any writing skills which is what I was hoping for.
Finally, I came up with this simple connect the dots using letters and writing skills! And its big, so its great for moving and learning!
Its a variation of the follow the letter maze I shared on PBS Parents.
I rolled out a long piece of butcher paper.
Sidenote: If you don't have a roll of art paper, or butcher paper (that's an affiliate link that helps support hands on : as we grow, thank you!), I highly recommend getting it, we use it a lot for art activities, but it comes in handy for these types of activities too. Its just a great way to enlarge anything! We finally used up the last of our first butcher paper roll, its been a good three years of using it, so well worth our investment.
On the paper, I wrote letters of the alphabet along the whole length of it.
I chose only 5 or 6 letters to focus on. I wrote the same letter over and over down the length of the paper. Then went back and did the next letter, and so on. So each letter was on the paper 8-10 times.
The letters I chose were both ones that I knew he knew (confidence boosters) and ones I knew George was struggling with (to stretch him to learn them).
He was right beside me as I wrote them, and he asked if he didn't know what the letter was. So that got him started.
George then connected the letters. He chose which letter he wanted to start on. He started with the letter R, one he knew.
I didn't care how he connected the letters, just to be sure to look around to see if he got all of that letter.
He went back and forth, through all the other letters too, to get to all the R's.
He wanted to connect it back to the beginning R when he was done too!
Then he started the next letter and did the same and so on.
I believe learning letters comes in 3 steps: introducing letters, letter matching (like this connect the dots activity), and knowing their letters. Check out our 20 activities to start learning letters.
It would have been cool to do all the letters in different colors, I didn't for a couple reasons though.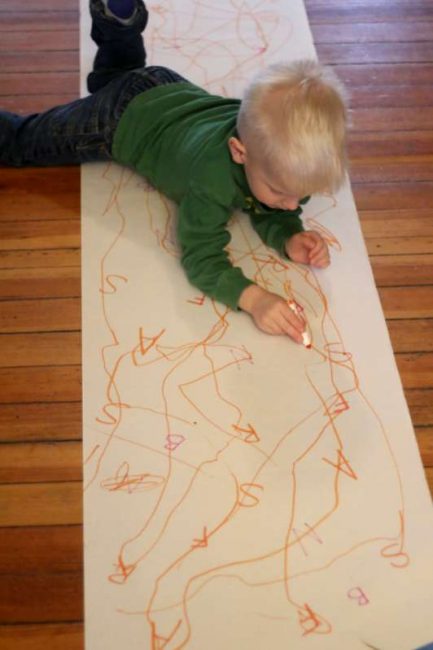 One, I'm in a marker shortage right now, they seem to have either disappeared or dried out. We could have used our crayons though.
But reason two, I wanted this to really be about the letters and not the colors.
A few months ago, I would have used the colors as an additional clue for him to find the letters.
More move and learn ideas from my co-hosts: