Art ProjectsAll AgesBack to School
BlogHer
Name
Resources332 Comments
Back to school art projects don't have to be done in the classroom! They can be done at home to get the kids excited about school too!
What do you think of when it comes to "back to school"?
I absolutely love art. I was an art major, studying graphic design.
However, I'm not an artist.
I know, that seems contradictory.
But I don't live and breathe art, and I don't actually know much about the history of art. I just truly enjoy creating things, especially with my kids.
I know art is a big deal when it comes to education.
Could I tell you the whys?
Not really. I just know it's important.
To read more about why art in education is important, I shared a few points below that I think are important and explain it fairly well.
Art increases test scores across every subject area
Art lowers dropout rates
Art increases attendance
Art drives motivation
Art creates a deeper understanding of diversity, culture, and history
So, I'm spreading the word and sharing some fun back to school art projects that kids can do, whether they're at home or in the classroom!
20 Back to School Art Projects to Get the Kids Excited for School and the Arts!
When back to school comes to mind, I think introductions and getting to know each other.
What's more important than their name?
And of course, self-portraits to show everyone what you are all about.
And then I think apples.
An apple for the teacher.
Or is it that fall is just around the corner and the apples are ripening?
Either way, apples come to mind when I think of back to school.
Name Art Projects for Back to School:
When a child starts each school year, there are probably some new kids' names to learn. And they're probably telling their names to the other kids too.
Even in a small school like ours, Henry is still meeting new kids in his class each year.
I don't think anyone really likes to make introductions, so what better way than to say it with art?
Show off their personality a little bit and share their name!
And at home, it's more about them becoming confident in themselves.
Self Portraits Art Projects for Back to School:
Along with learning their names, the first week back to school always seems about getting to know each other and having the children share about themselves to the class.
It's fun to bring this home to get to know each other too!
I always love the little homework assignments to tell the class about my kids. It always helps me really get to know them again, and better.
So I thought it would be fun to take it a step further and do these back to school art projects at home and do some self-portraits (I think I'll even do them myself)!
Apple Art Projects for Back to School Season:
School and teachers make me think apples. It just does.
To gear up and get excited about back to school, do some of these fun apple art projects!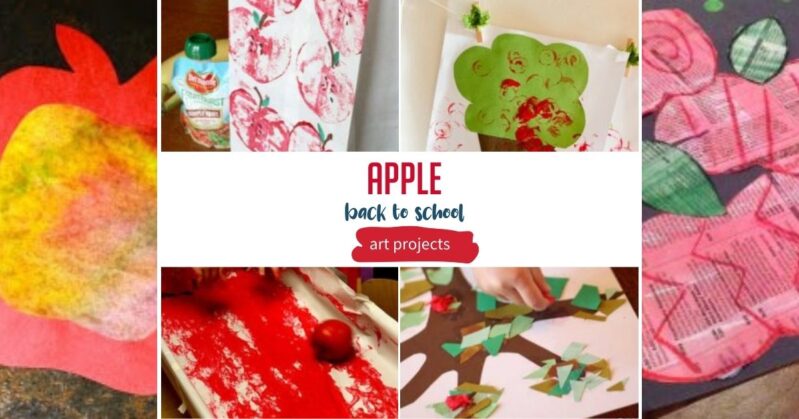 As part of the weekly activities planner, I also recently shared a fun week of back to school activities to do! For the whole week!