Math & 123sPreschoolersBack to School
Counting
Numbers
Reading
Writing Activities5 Comments
Henry's getting pretty excited to get back to school in a few days. We had a preschool open house the other night, so Henry got to check out his new classroom and officially meet the teacher and her aide (though he already knew his teacher personally).
The following day we had a home visit from them as well. Henry kept asking when he got to start school, so I thought this would be a great time to start a countdown to get ready for school.
And also to practice numbers and read a few new books in the meantime, I came up with this "Counting Up Countdown" to let him know when school will start and learning to be patient. (ha! Hopefully, right?)
Preparing for the Countdown to Preschool
We made a little trip to the library and picked up 10 new books to read one for each day before preschool starts.
I picked out a few books that were about the first day of school or just school-related and Henry picked out a few that he just liked. So we have a nice mix of books.
I wrapped each book separately in our butcher (art) paper (affiliate link), but you could use newspapers or wrapping paper you have on hand. I just wrapped around it once, not completely wrapping it like a gift.
Henry got to practice some writing. He wrote a number on each of the books, 1-10. One for each day before he starts preschool. He always gave a shot at the number. He often wrote it backwards, so I'd then write it on the paper lightly for him to practice.
The Back to School Countdown Twist for Preschoolers
We are also doing a twist on the traditional countdown. I thought counting backwards for a preschooler was expecting too much.
Instead, I wrote out the number of days until preschool on the calendar, in numerical order. So Henry counts up each day to get to ten, instead of down from ten to get to 1.
The countdown part is with the number of books that are still wrapped. When they're all unwrapped, school starts the next day!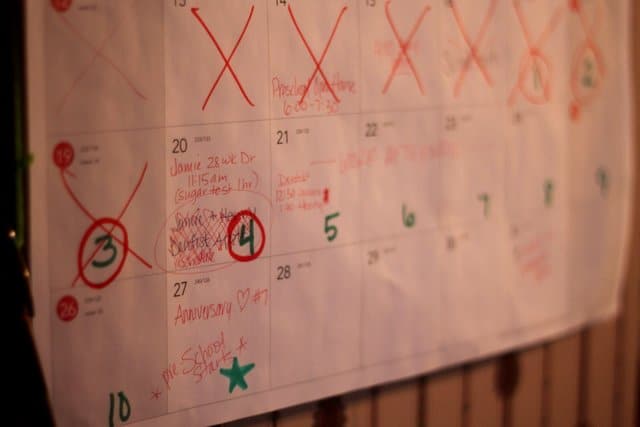 Each day, we cross off the previous day (and number) and circle that day's number. Once we know what today's number is, he opens up the book!
Although, Henry usually knows which number it is that day by remembering what yesterday's was.
Reading the Books
The one rule is that we can read that day's book, or any of the previous day's books, but none that are yet to be opened.
So far, we've been reading each of the previous days' books every day too! That may change by the time we get to ten though!
The Books We are Counting Down with:
My school and learning picks (the following lists contain affiliate links for your convenience):
Clifford's First School Day (Clifford the Small Red Puppy)
D.W.'s Guide to Preschool (Arthur Adventures)
Arthur's Teacher Trouble (Arthur Adventures)
Friends at School
Curious George Learns the Alphabet
Henry's book picks:
I'd love to see other versions of countdowns. Have you counted to something that the kids are excited about?
What have you done for a countdown?