Parenting
SponsoredToddlersKindergartnersBack to School
Raising Kids is Tough3 Comments
Help cut the friction of busy mornings with a simple back-to-school switch that makes school mornings more positive!
We go back to school early here in mid-August. That's pretty early – earlier than most – and we start getting ready sooner, too.
Which means right now.
Get ready for school with a week of fun activities!
Before it creeps up on me any faster, I've decided to put our back to school routine back into action for the morning before we get too far out of it.
Make Back to School Mornings More Positive with Put Ups!
Our school day morning routine is pretty simple:
Wake up
Eat breakfast
Get dressed
Brush teeth
Put shoes on and pack the school bag
Walk to school
And in there, there is usually time for play, or even a quick morning show on PBS because the boys usually wake up quite early.
Unfortunately, during that free play, I often hear a lot of negative comments lately.
"Get out of my way!"
"No! I'm playing with that! It's mine!"
"Errrrrrrrr"
And it needs to get turned around before school starts so they're not talking like at school to their classmates, or even their teachers.
In short, I was looking for easy, quick ways to make school mornings more positive for my family.
I've recently gotten the opportunity to check out the Playful Learning Ecademy. Her "Put Ups and Put Downs" eLesson is something I want to work into our everyday routines, including our back to school morning routine.
Grab the FREE Put Ups resources from Playful Learning to try this at your house!
What's a Put Up Anyway?
What' s a "Put Up"? 
Basically, a Put Up makes you feel good. It makes you smile.
It's basically a compliment, but it also could be a praising comment or even a nice gesture.
What's a "Put Down"? 
Exactly what you're thinking it is. It makes you feel sad, mad or just bad.
It puts a frown on your face and you might mope around. It's a negative comment that's mean or just rude.
Generally, it's something that's just plain not nice. And it's what we're trying to get away from to help make our school mornings more positive
Easy Ways to Make School Mornings More Positive
My kids aren't writers yet, so we won't be using the Put Ups Printable that's included with the article. We can still do the same sort of thing to fill our morning with Put Ups for a truly awesome day!
There are several different times that I can already see adding in a strategic Put Up moment.
During breakfast, take a moment and go around the table for each person (parent too, not just the kids) to say a Put Up about each person sitting at the table.
Make it a game to see how many times we can make it around the table that day.
See if we can do more Put Ups than the day before or not repeat the same Put Up day-to-day.
Before anyone plays or watches a show, they need to give someone else a Put Up.
We could take turns brushing teeth and those not brushing their teeth could give the kid that is brushing their teeth as many Put Ups as they can before they're done. Or make it so that the one brushing their teeth can't stop brushing until the others can't think of any more Put Ups!
While packing school bags, I want to go over what they brought home the previous day for me to give them Put Ups for all their efforts at school.
And just including Put Ups whenever possible on our walk to school, like at every stop sign or mailbox.
I might also use the printable Put Up cards to write down my own thoughts and observations. That way if I can't stop in the moment to verbally call out a positive action, I can jot it down and bring it up later.
At first, kids will probably think of Put Ups as physical things. "Your hair looks nice today."
But it can (and probably should) go beyond that. Try: "You ran really fast to catch that ball today" or "I like the way you shared your toy with me."
My own participation in Put Ups will give them the examples they need to understand that the sky is the limit when it comes to Put Ups! So I'll be sure to mix up my compliments and positive talk, too.
Then at the end of the day, in our bedtime routine, I'll be including ways to talk about Put Downs that happened that day with the kids. We'll work with them to figure out how we can turn it into a Put Up instead.
Kind of a new concept to "Turn that frown upside down." We're just changing it to "Turn that Put Down into a Put Up!"
How do you build positivity and compliments into your child's day? We'd love to check out your sweet ideas!
You can check out the Put Ups and Put Downs resources from Playful Learning – for free!
Grab the FREE Put Ups Resources to try at your house!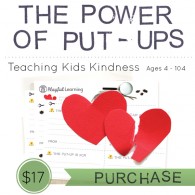 Full Disclosure: I received full access to the Playful Learning Ecademy -and an expanded Kindess lesson - in exchange for sharing my honest opinion and experience about the course. This post contains affiliate links.