Art Projects
Literacy & ABCsToddlersKindergartnersLetters
Painting
Reading
Sight Words11 Comments
As part of the Summer Reading program I'm doing alongside A Mom with a Lesson Plan and Creative with Kids, I'm going to work through the areas of learning that needs to be learned before actually reading.
First on the list is learning letters, or even simpler: letter recognition.
I've already collected tons of ideas (50 of them) to learn the alphabet. And we've tried quite a few ourselves. Some that focus on letter learning are:
Here's the latest letter learning activity I did with George.
Magic Letter Learning!
It's a classic. Use a white crayon, I think a white oil pastel would work better actually, and write your letters on a piece of white paper ahead of time.
I invited George to the table when I had a little dish of water ready with a paintbrush. I was armed with my pack of food coloring and asked what color he'd like to paint with. This is great bait for me to get him excited about the activity (just my tip of the day).
Blue paint this time!
With that, George went on painting his paper happily!
And surprise! He found letters along the way and got so excited! Shouting them when he knew the letter. (He doesn't know them all yet… just a few, so he was super excited when he found a G for George, an H for Henry, and an L for Louis – along with M and D for Mom and Dad.)
It was so exciting to watch his face light up when he found a letter he knew!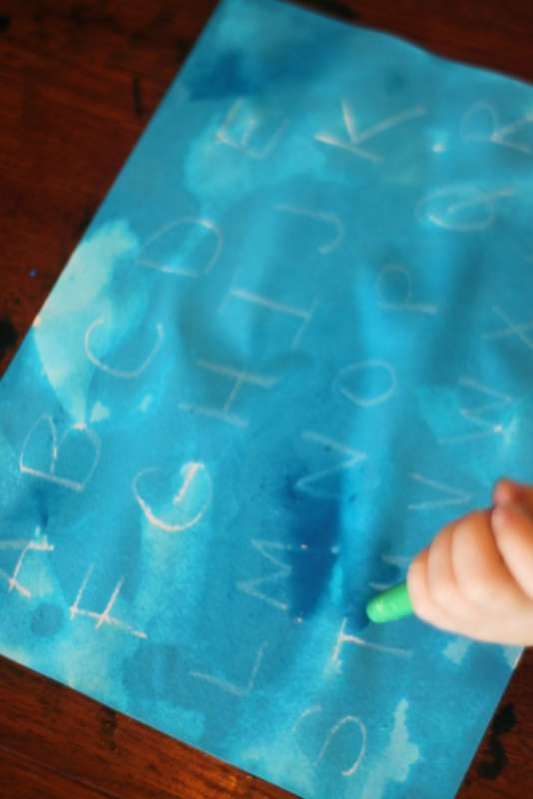 Henry joined in the activity too. Instead of letters, I wrote his list of sight words on the paper, along with all of our names.
More ways to learn sight words! Try these 12 hands on learning activities to learn sight words.
This can be adapted to many different learning areas. And it's so fun to have a little magic in the activity with the letters appearing out of nowhere!
How's your quiet reading going?
I have to be honest that we haven't gotten ours going yet. I'm not going to be a great example right now! I feel like my life is all turned upside down with craziness right now that I haven't been able to find the time (lame excuse, I know). I hope to get better about that!
Someone asked last week what I'm going to be reading. I have gotten the new book, START (affiliate link) by Jon Acuff, and really look forward to diving into it. But I am the world's slowest reader, so it really will probably take me all summer. That's why I don't read as much as I should… I think this week should quiet down and I should be able to get into our routine again. I'm so looking forward to that!