Move & Learn
SummerPreschoolersBalloons
Shapes
Water ActivitiesLeave a Comment
Beat the heat and learn shapes with a fun water balloon shape matching activity for kids from Brigitte!
There's no better way to beat the heat than with fun water activities! And water balloons are one of my favorite playtime tools!
I thought it would be fun to pack some water balloons on a recent family visit, and I am so glad I did!
I had a blast watching my 3-year-old niece play and cool off. She had so much fun running, jumping, and throwing!
As I was filling the water balloons, I decided to incorporate color recognition and shape practice into the activity, too. Like so many of my favorite activities, this idea took less than 5 minutes from inspiration to playing!
Wet & Wild Water Balloon Shape Matching for Kids
NOTE: Balloon activities can be educational and entertaining but please use caution when doing them. Balloons are a choking hazard. Always supervise kids while they are playing with balloons. Clean up any pieces immediately after a balloon pops.
To set up your own water balloon shape matching activity, you'll need:
Water balloons, 3 different colors
Permanent marker
Sidewalk chalk, same three colors as balloons
Space to play
First, I filled 12 total water balloons, four each of three different colors. I set these balloons carefully aside while I finished prepping.
Spur of the moment, I opted to add shapes and make it a matching activity!
On the yellow balloons I put circles, the pink balloons each had a triangle, and the blue balloons each had a square.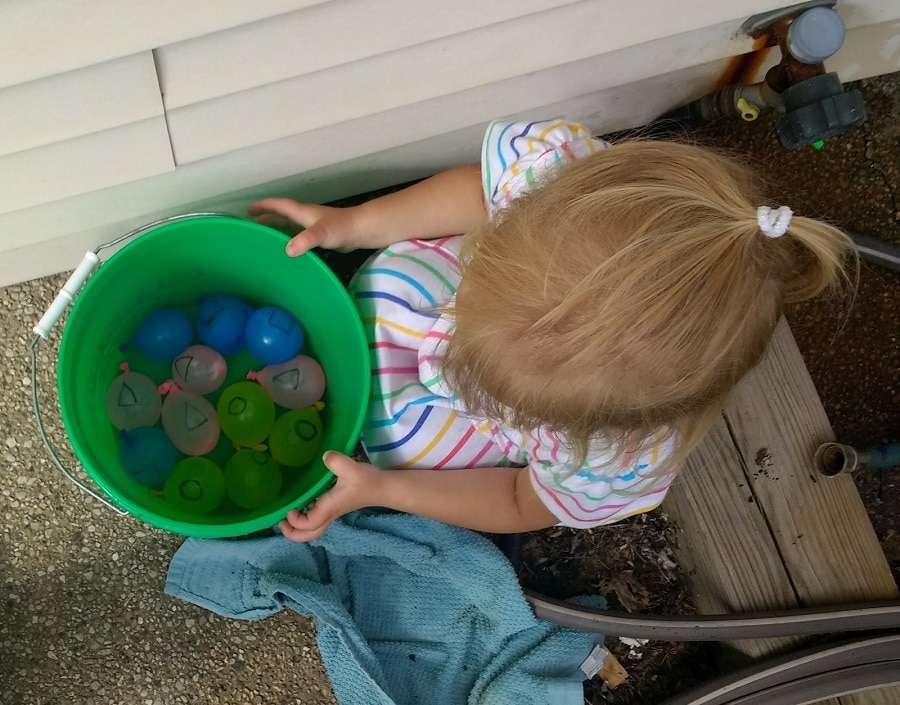 My niece was eager to begin the activity and offered to carry the bucket of water balloons to the driveway.
Heavy lifting is a great gross motor activity for kids!
Outside, I drew a circle, square, and triangle on the driveway. I used the same colors as the balloons: yellow, pink, and blue.
I asked my niece to hand me the correct colors of chalk. It was a great way to cement her understanding of the colors we were matching.
Then, the fun began!
Break Water Balloons & Match Shapes
My niece had a challenge: break the water balloons into the correct shape. For example, the yellow balloons needed to be dropped into the yellow circle because they were a) yellow and b) had a circle on them.
Make a water gun target practice for more active summer fun!
As she grabbed the balloons, she announced the color and the shape. Then, she pointed to the shape it needed to go to.
She tried throwing the balloons, but they didn't break easily since they were so small.
So, she stomped on them.
A couple of times the water balloon rolled away from her.
She had fun chasing them and matching the colors and shapes as she broke them.
It didn't take long for her to break all twelve of the balloons, and she was asking for more. This time, she wanted to help fill the balloons.
She placed the balloon openings on to the end of the nozzle and turned the water on and off (great fine motor practice!). We counted the balloons as we filled them.
This time we ended up with much larger water balloons. The chalk shapes definitely lasted longer when we used the smaller balloons.
As a result, I had to draw several large shapes as the chalk disappeared.
When we ran out of filled water balloons, my niece had fun jumping in the puddles of water left behind. She yelled, "Jump in the puddle, jump in the puddle."
What is your favorite active water activity? We'd love to sneak some more wet fun into summer!