SensoryPreschoolersToddlersNature
Play DoughLeave a Comment
This is such a fantastic way to explore with nature. But also to involve your child in a story that they can act out and re-tell in their own words. (I've mentioned in the past that this is a great activity for kids to learn how to read.) Kathleen of Word Boosting is sharing a simple small world of a forest. Enjoy!
We love to combine sensory play with make believe, so some branches left over from spring blossom sprays gave us a perfect opportunity to make an indoor forest.
If you've got some twigs or trimmed branches, there are lots of ways to create a small world forest. We made some play dough (how to make home made play dough) and a shoebox lid to create a base.
My original plan was to push the twigs in the dough to stand upright. The dough wasn't very firm, so we quickly ended up with a more tangled forest than I'd imagined!
Stronger bases could be clay or Styrofoam. I love the beautiful forest on Made by Joel, which uses a piece of board with drilled holes.
A simple flour and water mix can make a dough like the one we used, which was great for making footprints and creating a snowy forest. (Our original recipe was this one from Racheous.)
Once our forest was made it was time for my kids' favorite activity: pretend play. They took their bears for a gamble in the snow and rescued creatures caught in the tangled trees.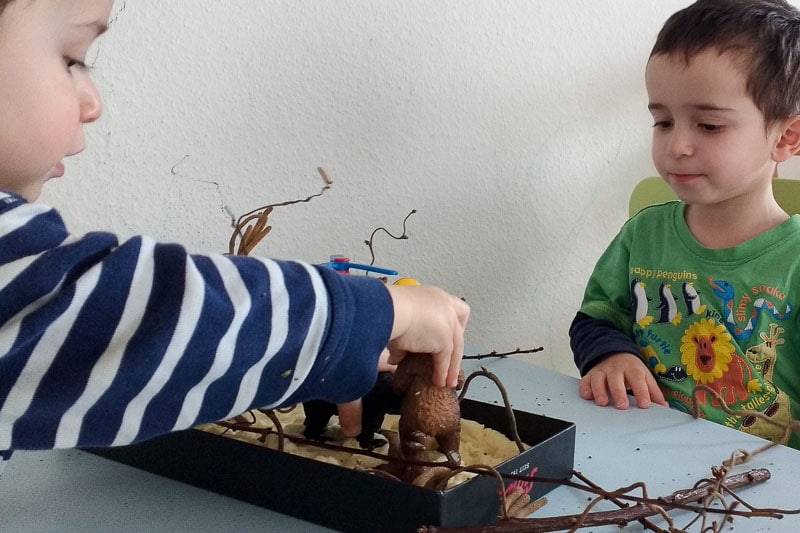 I used the forest as a scene to act out Red Riding Hood. Afterwards my oldest decided it would be better if the wolf held a party for everyone instead of scaring them. The catkins became party food, and wolf sang a couple of songs.
Our forest craft was a simple and fun way to stir the kids' imaginations on a rainy afternoon.