Art Projects
HalloweenPreschoolersKindergartnersPumpkins9 Comments
Is there anything you can't do with a potato? I mean you can bake it, fry it, and mash it – that in itself is pretty impressive. But oh, the crafting possibilities with potato stamping! You can carve a potato into just about anything at all!
Like a Jack-O'-Lantern!
That's right, we are already all about the Halloween crafts for kids over here and it is just the beginning of October!
I have learned to simply embrace the excitement of my little ones when it comes to the holidays. So we start crafting and decorating early. And there are certainly no shortage of Halloween ideas for kids!
Truth be told, I love it too.
My daughter actually got this craft ready all on her own. She is 13 and (sometimes) likes to plan fun crafts and activities for her little brothers. I'm hoping this lasts throughout her teenage years … though I haven't heard that sweet pumpkin crafting is one of the things I can look forward to in the years ahead.
But either way, right now, my sweet teenager still likes to craft with her brothers.\
Are these one of the 35 pumpkin crafts for kids? Find out!
How to do potato stamping:
She took potatoes and cut them in half. Then she used a butter knife to carve out Jack-O'-lantern faces.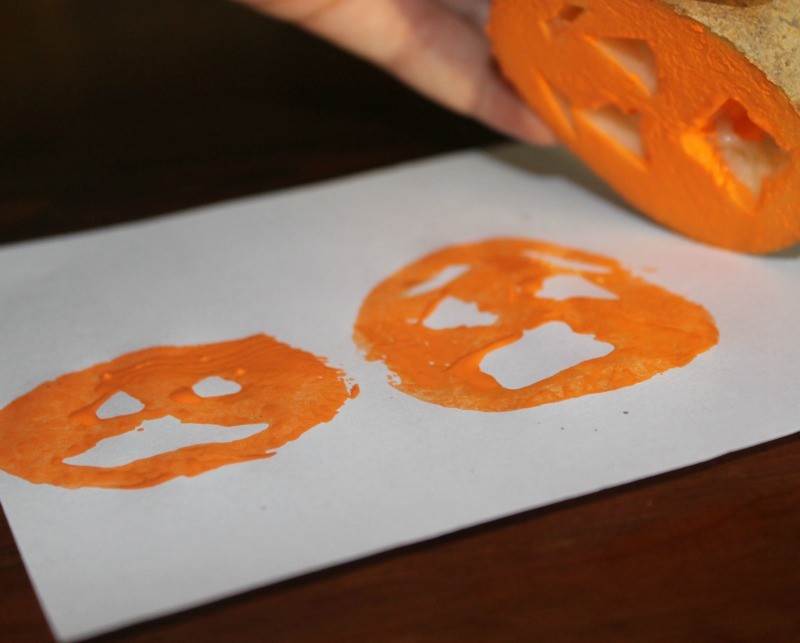 Potatoes are very easy to carve. Especially if they are a touch on the too ripe side.
This craft ties in nicely to some playing we have been doing lately with emotions. We have been working on what different emotions look like (and how to appropriately express them, in fact … like say a 3 year old's disgruntlement …)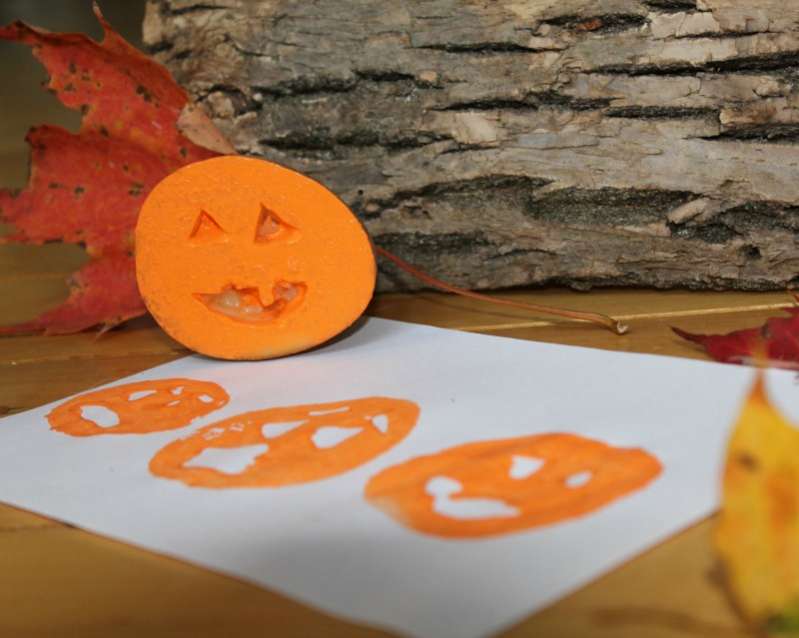 So we carved lots of different emotions into our potato pumpkins.
There was an angry Jack-O'-lantern, a surprised one, a happy one, and a sad one.
I offered a lot of different paint colors, hoping we would play a bit with color mixing or patterning, but for the most part they were painted orange.
Just paint the potato, or dip it in paint and stamp it on paper to make all kinds of Jack-O'-Lantern faces! Over and over again.
My little ones loved potato stamping pumpkins! And so did my daughter in fact. And maybe Mama, too.
These little pumpkins would be great for stamping onto Halloween cards or letters for friends or family, or they would be great for decorating a trick or treat bag or a tablecloth for a Halloween party!
So many options with this simple Halloween craft. Good old versatile potatoes!
Have you done potato stamping yet? What have you made?