Autumn
Fine Motor
Holidays
Sensory
ThanksgivingToddlersKindergartnersPreschoolersAutumn
Colors
Matching
Play Dough
Turkeys4 Comments
This play dough turkey color match activity is super quick to set up and perfect for fine motor Thanksgiving fun with your kids!
Fall has officially come and the sunny crisp air is something I'm so thankful for. I absolutely love, Fall!
Beautifully colored leaves, comfy sweaters, and pumpkin spiced lattes are just a few of the fall favs.
With Fall, also comes Thanksgiving and there is always so much to be thankful for.
My family and the fall harvest, just to name a few, is what I'm extremely thankful for.
Play Dough Turkey Color Match Activity
When it comes to Thanksgiving, my girls instantly think turkeys!
So why not have some fun with them!
To create your own turkey color match activity, you will need:
play dough (colors that match your craft sticks)
colored craft sticks (Or colored feathers work also)
black construction paper (for the beaks)
No Play Dough? No Problem! Check out our Easy Soft Play Dough Recipe.
How do you make a play dough Turkey?
First, have your child or yourself roll 2 sections of play dough into balls (one bigger than the other).
Next, place the small ball of play dough on top of the big one to make the turkey's body.
Add 2 googly eyes and a beak.
Repeat the above steps with the other colors of play dough.
Now, your child is ready to play and have color matching activity fun!
For this part of the activity, simple have your child match the craft sticks to the same colored play dough turkey.
Get them to squish the stick into the turkey's body to make feathers.
Tip: For Younger kids you may want to stick to just 2 colors.

For older kids you could do a blended color twist. Use primary colored sticks and blended colored turkeys. For example, Purple play dough turkey and they match blue and red colored sticks to it.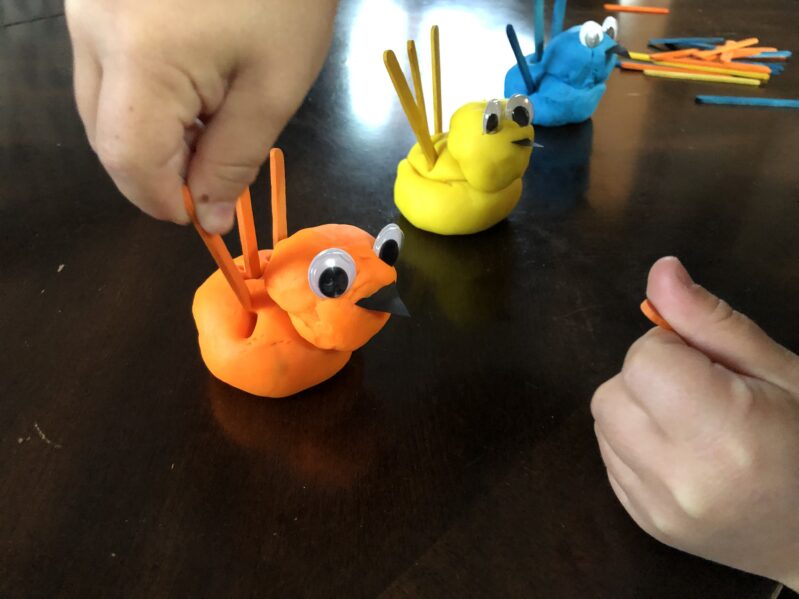 My girls loved this! They giggled as they were squishing in the craft sticks.
When my youngest was finished her pile of sticks, she instantly asked for more.
She said her play dough turkey needed more feathers!
Wow, was she ever proud of herself when she completed this color match activity.
Look at that smile!
Here is another super cute turkey activity your kids are sure to love, too.
My girls have a lot of fun exploring turkeys at Thanksgiving. They think they're pretty cool animals. I think so too!
If your child enjoys turkeys as well, why not give some of these cute turkey crafts a try.
This play dough activity was super quick to set up and my girls loved seeing the turkey being built.
So much fun was had by all!
What are some of your favourite Thanksgiving activities to do with your kids? Share your ideas with us.