ActivitiesAll Ages30 Days to Hands on Play
It's Playtime6 Comments
Today's challenge is to create a reading nook! I can't wait to make one (this is something we don't generally do with the boys). Head over to The Imagination Tree for some ideas and more info on the challenge!
Today, for It's Playtime, I'm sharing some of the fun things you've been up to with the 30 Days to Hands on Play Challenge. We've had loads of participation from readers, as well as other bloggers. Below are just a few of the bloggers that have taken the time to write about their challenge experiences. Thank you!
I love seeing everyone's take on our challenges, so keep your experiences coming! Let us know how they go!
Oh, and I have a HUGE thank you for challenge participants! An awesome giveaway – an Alex Toy Wooden Parking Garage – enter to win it in the giveaway here!
Day 1: Mission Statement Read mine!
Day 2: Build a Fort by Lessons Learnt Journal.
Dragon slaying in a bed fort with Christmas lights!
Day 3: Block Building by Living at the Whitehead Zoo.
A big mess! But the 2nd try is a success! Play just needs to be initiated first.
(see their entire week of play challenges!)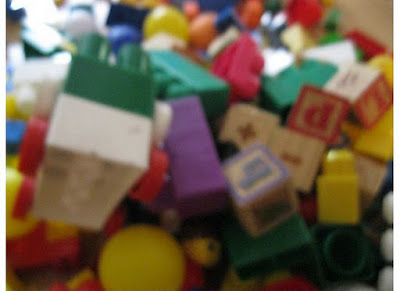 Day 4: Pretend Islands by Mama Pea Pod
Creating mounds of leaves to escape from the hungry shark!
Day 5: Play Dough Exploration by Creativity My Passion
Creating creatures of The Very Hungry Caterpillar!
Day 6: Family Together Time by Child Organics.
Bending the rules to make games work for the entire family.
(see their entire week of play challenges!)
Day 7: Mega Floor Doodles by Let Kids Create.
Drawing practice! Love the kids' creations!
(see their entire week of play challenges!)
Day 8: Water Play by Creativity My Passion.
Paper origami boats for some water play!
Day 9: Sensory Tub by Make, Do & Friend.
Coffee beans! Sensory tub for the fingers and nose!
Day 10: Mixing Concoctions by Dinosaurs & Octopuses.
Science experiment to compare moon sand and cloud dough.
High Five to these play friends!
(Go leave them a playful comment!)