BlogHer
ChristmasGrade SchoolKindergartnersPreschoolersToddlers431 Comments
The holidays are very stressful and the fun can sometimes get sucked right out of it. Especially when you're visiting family and the kids are in a strange place.
You want it to be that something that the kids look forward to, and for it to be about more than the presents that they get.
What if you had a list of go-to activities for the kids to do with Grandma at her house?
Create new traditions.
Cherish the time the kids are with their grandparents.
Have fun over the holidays!
Relieve a little bit of that stress.
New Traditions, New Season
I'm excited to talk about Property Brothers at Home on the Ranch which premieres Wednesday, November 25th at 9 | 8c.
Property Brothers Jonathan and Drew Scott go back to their roots as ranch kids in Alberta, Canada in a new HGTV holiday series Property Brothers at Home on the Ranch, relieving stress in their own way this holiday season. Jonathan and Drew help close friends of the family transform a run-down horse ranch into a dream property. Their family joins them as they reminisce about growing up on the ranch, and how the "Cowboy Code" of hard work and keeping true to your word helped them become international home renovation celebrities.
Because ranch life is all about family and friends, you can make your holidays all about family and friends too.
New traditions this holiday season! Make it a fun holiday!
What to do at Grandma's house during the holidays:
A few very simple activities the kids can do at Grandma's house. These are seasonal or holiday activities that are appropriate to use for this new holiday tradition.
Many of our activities would be so much fun to do at Grandma's house. But Grandma often doesn't have the supplies on hand to do them all. We usually use very common supplies, but paint and pipe cleaners might not be something you'd have if you don't have little kids running around every day.
These activities that I'm sharing are those that don't require the common craft supplies, just supplies that you'd have on hand, especially over the holidays. And I think Grandma will truly enjoy these bonding moments with the grandkids.
If you're the Grandma, print this out for the holidays. If you're Mom or Dad, print it out and pack it along for some fun with Grandma (or email it to her right now)!
Write Thank You Letters
Use any paper you have on hand, or even recycle some wrapping paper (fold it in half) to make a card.
Older kids can write thank yous for the special gifts they received over the holidays, and even write one to Santa!
Find some fun ideas for homemade Christmas cards here.
Cut Some Snowflakes!
Fold paper, or use coffee filters for an instant circle, to make snowflakes. Try a different way, make a fringe snowflake too. Or cut snowflakes out of leftover wrapping paper!
Tip for Grandma: Don't fold too many times! It gets too thick for little hands to cut through. Bigger cuts are easier too.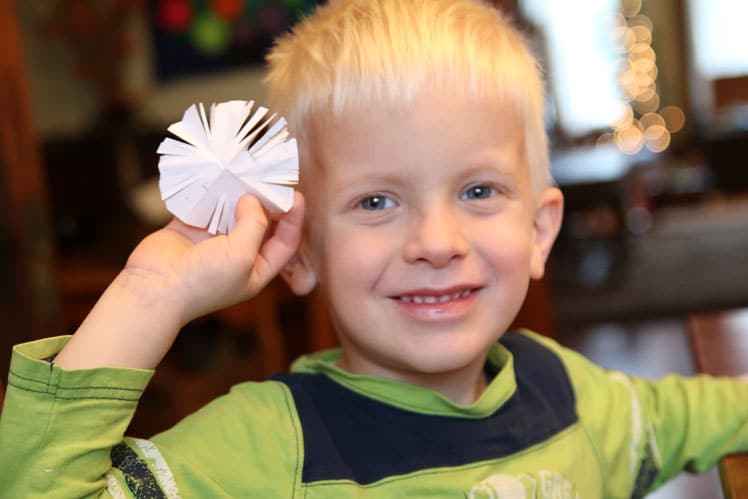 Go on a Christmas Scavenger Hunt
Make this as easy or as complicated as you like! I like a quick scavenger hunt, much like the Easter bunny hides the Easter eggs. Collect Christmas bows as you're opening presents. Then hide them around the house to hunt for later. Make it even more fun to do in the evening with flashlights!
Tip for Grandma: Maybe Mom or Dad can hide the Christmas bows so you can help the kiddos find them! What a fun moment!
Save Wrapping Paper!
Using leftover wrapping paper, cut out trees and presents to play a matching game. Or cut up pieces of wrapping paper to make a wrapping paper stocking!
Tip for Grandma: Save the wrapping paper from gifts as they're getting unwrapped (oh, my own Grandma would be proud of me for suggesting this!).
Grandmas will never be more fun, and it'll be a time everyone will remember. A holiday tradition win!
Crazy how easy it is to not let the fun get sucked out of the holidays, isn't it?
And you can look forward to the brothers taking on wide open spaces when they take their skills to the ranch. Watch #BrothersatHome on Wednesday 9|8c. Keep up to date with The Property Brothers this season: Facebook, Twitter, Pinterest and Instagram.
Are your holidays memorable or stressful?