Autumn
CraftsKindergartnersPreschoolersToddlersApples
Handprints
Painting11 Comments
Celebrate the season with a simple apple tree craft from Rachel that even toddlers can do!
I don't know about you, but I love fall. I love the cooler weather, the colors and anything involving apples!
Find even more fall activities for toddlers here!
This apple tree craft checks a lot of my boxes. It doesn't require anything crazy so it's pretty easy to pull together.
I also think it's really fun for kids to find ways to paint that don't involve a brush. Plus, the variety of materials adds a sensory element.This handprint apple tree craft is the perfect way to welcome fall!
This handprint apple tree craft is the perfect way to welcome fall!
For this project, you will need:
white card stock
brown construction paper
green paint
aluminum foil
glue stick or school glue
red pom poms (affiliate link)
The first thing I did was trace Hannah's hand and arm on the brown paper to make the tree trunk and branches.
I then cut it out and she glued it onto the white paper. We used a glue stick for this because she still has a hard time with liquid glue.
Next, I gave her the tin foil to crumple into a ball. We used this as a stamp to make the leaves on the tree.
I gave her some green paint and showed her how to dip the ball of tin foil into the paint and then stamp it.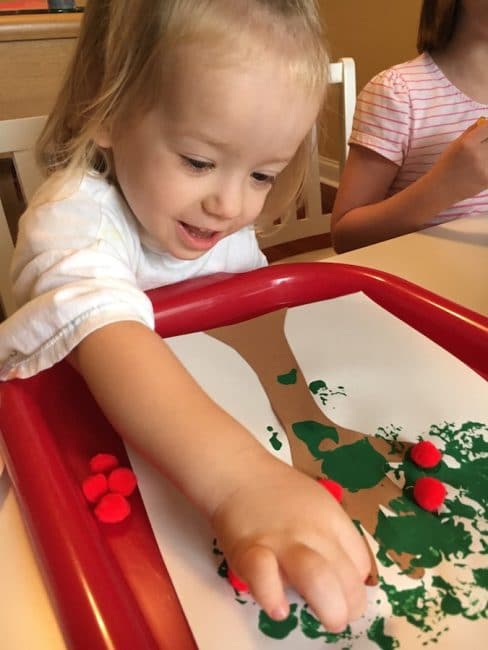 When she was done stamping, we let the paint dry completely.
Then it was time to add the apples!
She dipped red pom poms into some glue and then pressed them onto the paper wherever she wanted an apple. If you don't have red pom poms, you could also use crumped balls of red paper like in this other apple tree craft for toddlers.
She was so proud of her work, and I think it came out so cute!
What is your favorite fall activity?