Autumn
Crafts
Fine MotorPreschoolers7 Comments
This Fall  tree craft is a fun way to sneak fine motor strengthening into a Fall craft with the kids.
Colorful leaves make this tree a project that can be hung up on walls and will make kids proud as they admire their work.
Or, create the torn paper tree on the front of a card for a Fall kid-made greeting card.
Looking for more fall crafts? You can find 15 Fall crafts here.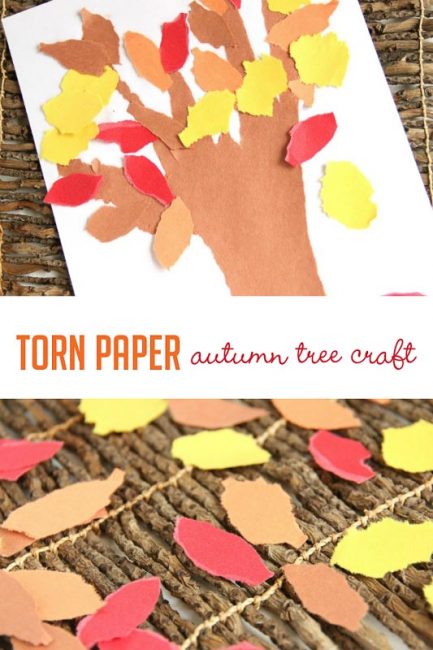 Fall Fine Motor Tree Craft
Kids will love to create the leaves on this Fall tree craft as they tear colorful paper.
You'll need just a few materials (affiliate links) to make this craft:
Construction paper (red, yellow, orange, and brown), cut into strips
White paper
Additional sheet of brown construction paper
Making this fall fine motor tree craft is quite simple.
Using the strips of paper, show your kids how to tear the paper into leaf shapes. Did you know that tearing is actually the beginning stages of learning to cut?
The great thing about this craft is that kids can make leaves in a leaf shape while strengthening the small muscles of the hands. Younger kids can tear across the strip of paper to make simple squares while building motor skills at an age appropriate level.
Try these Fall Toddler Activities for more ways to play this season!
Using both hands, tear the paper into curved shapes using the thumbs and pointer/middle fingers. This positioning on the strips of paper encourages a tripod grasp that is required for pencil grasp as well as many other functional skills.
In order to create a curved shape, the non-dominant (non-tearing) hand will need to pinch the paper while building pinch grip strength.
Tearing paper builds strength in the small muscles in the palm of the hand. Strengthening these muscles is important for endurance while coloring and writing.
Once your child has enough leaves torn from the colored paper strips, they can create the trunk of the tree.
Ask them to tear the large brown piece of paper into a trunk shape.
Then, the trunk and leaves can be glued down to the white paper.
Your child can add leaves to the sides of the tree for falling leaves and glue leaves to the bottom of the page if they like.
Looking for more Fall fine motor fun?  Try this Fall Button Tree Quiet Bin!
Your kids will love to see their Fall Tree Craft in full color after all of the hard work they've put into this Fall art!