Activities
Gross MotorGame
Indoor Activities1 Comment
Set up your cowboy (or cowgirl) with a fun Nerf gun target practice game for kids from Alisha!
Nerf guns are just plain fun! But if your kids are like mine, they tend to just shoot the darts and balls all over the house.
Skip the massive cleanup after a shootout with a Nerf gun target practice game. More fun, less mess!
Get soaked with more target practice water gun fun.
Wild West Nerf Gun Target Practice for Kids
Any excuse to add a bit of imaginative play is always a win in my book! So we might add in some fun Wild West costumes or extra props to our next shootout.
To set up your own Nerf gun target practice, you'll need:
Any type of Nerf gun
Nerf ammo
Cups
Cowboy or cowgirl costumes, hats, etc. (optional)
Build a Classic Nerf Gun Target Practice Game
We decided to use cups as our target because we had them on-hand and we love the stacking cups activity, too.
We used red and brown because we had them on-hand, but they also work with a western theme. Total accidental win!
I handed my kids a stack of cups and they began building our target structure. Younger kids might need a quick demo or hands-on help to stack the cups into a good target.
They chose to build one pyramid to begin. Eventually, we tried two pyramids and an array of different designs.
Any cup configuration will work, let your kids be creative and have fun.
If you don't happen to have cups on hand, there are many materials that can be used to make targets.
You could also try:
Cardboard
Milk Jugs
Stuffed Animals
Pillows
Juice Cartons
Ready…Aim…Shoot the Target
Targets ready, Nerf guns loaded, have your kids make their shooting stance and let the Nerf ammo fly!
Help to remind your kids to focus their attention on hitting the target.
Either one cup at a time, the whole structure, certain colored cups, whatever. The goal is to make it a focused target practice activity.
I let my kids pick their spots for this first time. Next time, I might add in different lines of tape and give "bonus points" for hitting the target from longer distances.
Try a messy mud target practice activity kids will love!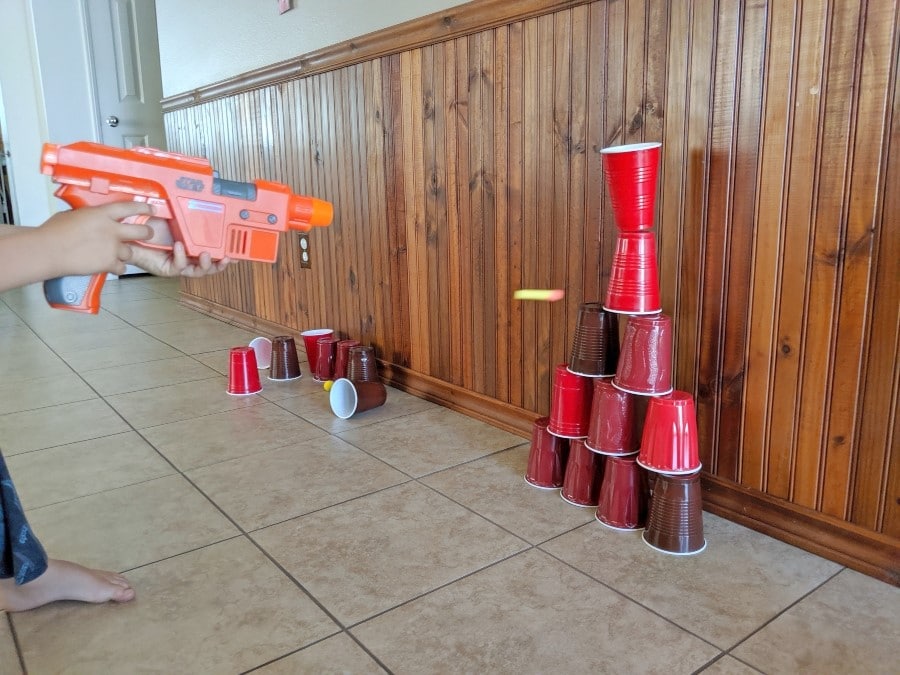 Once the target falls, rebuild, reload, and let the Nerf gun target practice continue.
This would also be a great idea for outside, too! It'll contain the ammo in one general area and give some extra direction for outside free play.
For outside play, try:
Water guns
Cups of water
Water balloons
Squishy wet pool balls
There are so many options, inside or out, with this fun aiming game!
How do you help your child work on hand-eye coordination? We'd love to peek at your cool ideas!