ActivitiesToddlersPreschoolersPom Poms
Tape6 Comments
Set up this simple target practice for preschoolers using pom poms! It's easy and fun for preschoolers and even toddlers to aim fo!
George asked for an activity to do with pom poms. He absolutely loves to blow the pom poms. Its just fun!
I set up a little target on the floor using painters tape for him to aim for.
Or try a target practice for kids outside – hope you don't mind them getting a little dirty!
I got these enormous pom poms in a package I received from CraftProjectIdeas.com (the package has various sizes of pom poms, I  grabbed the huge ones for this activity).
I taped two squares on the floor. I first taped a larger one, thinking it would just be fun to gather all the pom poms in there. But then decided to add a second inner square for added difficulty.
Tip: For older kids, you could number the squares (add a few squares) and have them keep points.
Of course, George is a preschooler, so this was still kept pretty simple.
Louis joined in too, so invite your toddler along to play!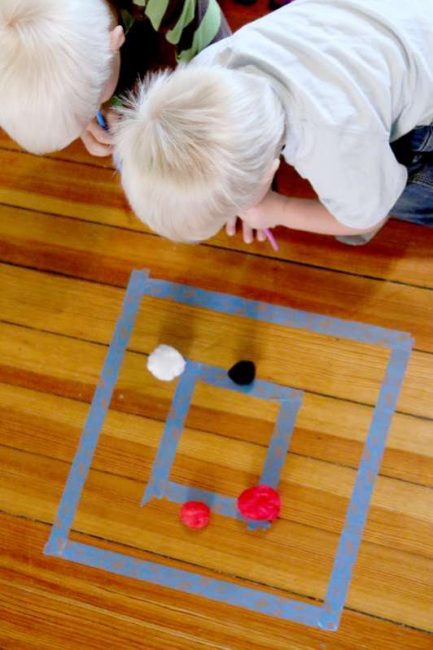 I gave each of the kids a straw and some of the huge, enormous pom poms.
And let them just blow, blow, blow to their heart's desire.
George blew the pom poms as best he could into the square. With some pretty decent accuracy!
Of course, with a toddler, we also made it a game to get all the pom poms into the square before Louis took them out! Ha! Now, that was a challenge for George.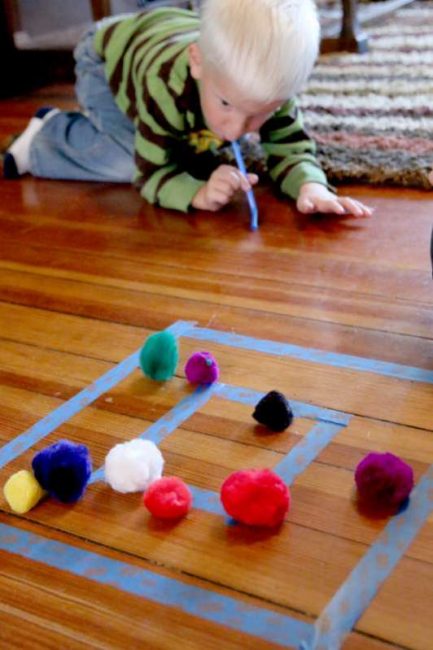 It's just a simple target practice for preschoolers, and even toddlers, to do at home, when they're bored and looking for something to. It's quick to set up too!
We also changed it up after a bit and added a bowl to the squares for George to throw the pom poms into!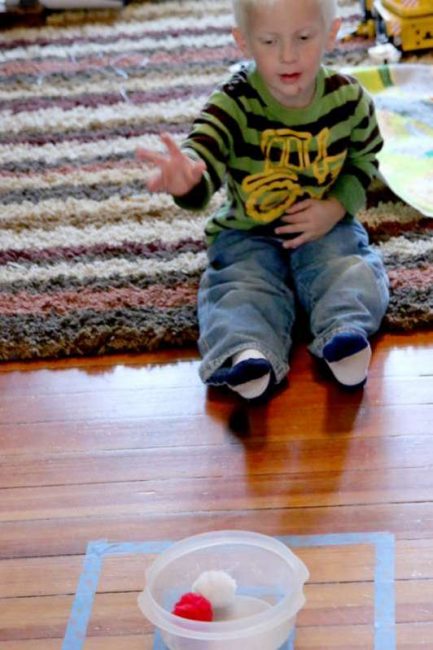 I exercised one of my favorite tips for doing activities when you have a toddler in tow:
A toddler often likes to wreck, or ruin, the activity by grabbing items, sticking his feet in, or whatever. I always treat this as part of the challenge for the other kids. To do 'X' before the 'monster' attacks, or the tornado comes through, or the hurricane its! Making it a natural disaster gives the kids the idea that its just not something they can control and they'll have to make do.