Crafts
Spring
SummerKindergartnersPreschoolersToddlersFlowers
Nature
UpcycleLeave a Comment
This fun and flowery garden from contributor Alisha is made from an everyday object just sitting in your refrigerator: a juice or milk carton.
A flower carton garden gives you a fun opportunity to be hands-on with your kids as they make and personalize their own flower gardens. This flower garden for kids can be as simple or as complex as you would like, depending on the age and interest on your kids. So grab a carton and let's make a flower garden!

Supplies Needed:
Half gallon milk or juice carton with a cap
Soap and water
Scissors
Potting soil (affiliate link)
Flower seeds (affiliate link) or flowers from a nursery
Optional: gardening gloves
Optional: materials for decorating (construction paper, paint, glue, markers, glitter, etc…)
Prepping your flower carton:
Your first step is to wash out the carton with soap and water.
MORE ACTIVITIES YOU MIGHT LIKE
I put some soap and water in the carton, put the cap back on, and let my kids shake the carton really well (they loved it!)
Then we poured out the water and rinsed again with clean water.
It's okay if the carton is still a little wet inside because you're going to add soil, which needs water anyway.
Cutting your flower carton:
The next step is to cut the opening for your flower carton.
All you need is a pair of scissors. You can also use a razor blade, but I recommend this tool for adults only.
Take your carton and turn it on its side so that the cap is facing sideways.
Begin to cut your carton by simply poking a small hole in the corner.
Then put your scissors through the hole and begin cutting along the edge of the carton.
If your kids are experienced with cutting, they could definitely do the cutting (with guidance). But if your kids are younger like mine, you'll want to do the cutting while they help to hold the carton.
Here are 5 cutting activities to help build fine motor skills
You can choose to draw your cutting lines beforehand, but it isn't necessary.
I recommend leaving a little edge to frame your soil.
Time to decorate (optional):
If your kids want to decorate their carton, you'll want to have them do that before putting in the soil and flower seeds/flowers.
Here are some ideas for decorating your flower carton:
Paint the outside of the carton with a washable tempera paint (affiliate link); making it one solid color or many colors.
Wrap the carton in construction paper with glue and then use markers, stickers, and glitter to decorate.
Glue on collected nature items to decorate as a nature collage.
Cut out pieces from a magazine and glue them on to fill the outside of the carton.
You could simply attach a tag to your carton and give this beautiful upcycled craft as a gift.
Making the carton into a flower garden for kids:
Once your carton is cleaned, cut, and possibly decorated, it's time to add in the potting soil and seeds or flowers.
This can be done outdoors or indoors depending on the weather.
Let your kids choose if they want to wear gardening gloves or just explore the feeling of the soil (it's a great sensory activity, too!)
Fill up the carton with potting soil, patting it down and smoothing it out along the way.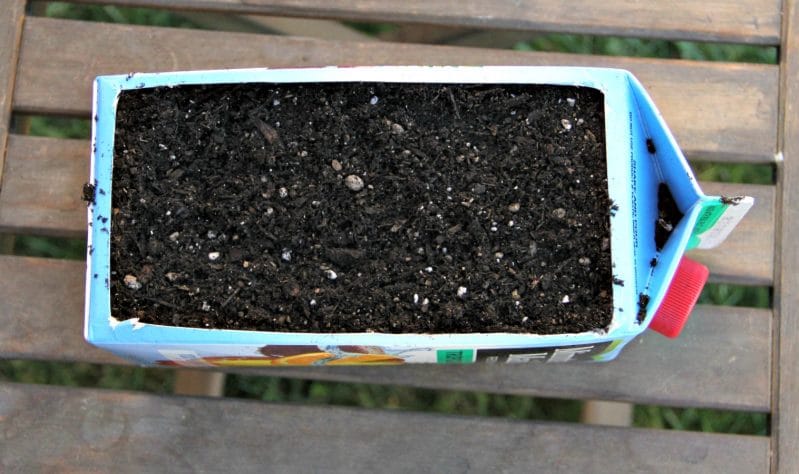 Once it is full, add a little bit of water to make the soil nice and damp. Then add in your flower seeds, following the directions on the back of the seed bag.
My kids loved poking the holes with their fingers and putting in the seeds.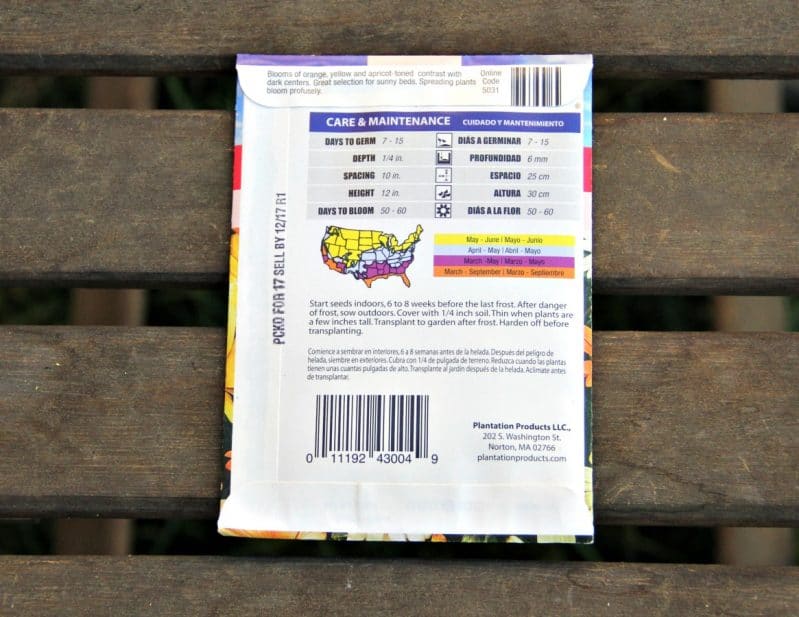 Another option is to plant some already grown flowers for a more instant flower garden. We chose to make one flower carton with African Daisy seeds and one with Geranium flowers. It's completely up to you which seeds or flowers you decide to plant.
You could even choose to plant herbs and some vegetables for a lesson in food sources.
You could make this an extended activity and track the growth progress of your seeds as they turn into flowers.
Your kids could also make another flower garden out of play dough and printables. 
Activity Follow-up:
Your beautiful flower carton garden is complete!
You can keep it inside for a few days next to the window (especially if it's cold outside), but eventually, most flowers need to be placed outdoors in full sun.
Once placed outside, it would be best to poke some holes on the bottom of your carton to allow for the soil to drain.
The length of time your flowers will last, will depend on the type of flower, weather conditions, and overall care.
Just remember to add water, give sunshine, and take some time to smell the flowers.
What type of flower seeds or flowers will you use in your flower carton garden?