Crafts
SpringPreschoolersNature
Painting1 Comment
Hands On As We Grow contributor, Julie, shares these adorable garden markers for kids – such an easy and fun Spring activity for your preschooler!
I love doing art projects with my preschooler, but doesn't it seem sometimes that there's really no use for the project after it's done? These painted rock garden markers for kids are both fun for your preschooler and super useful in your garden as well! We love art that's practical, too.
This painted rock craft only takes around 30-40 minutes with drying time, and it's the perfect task to tackle as a mommy and me team.

Supplies for your Painted Rock Garden Markers
For this activity, you'll need just a few materials you probably already have at home:
Before you invite your child to the table, do a quick prep:
Place a large piece of paper towel under a wire cookie cooling rack.
Set your rocks on the rack
Set out the paint and paint brushes for your preschooler.
Ready? Gather up your preschooler and get ready to create! My three year old was able to do all the painting by himself. I only did the lettering with the permanent.
Now the fun part – painting your garden rocks!
First, paint your rocks! Show your child how to hold the paintbrush and choose one color for each rock.
I like to encourage color recognition by having my son say a color and then pick out the correct color to paint each rock. Don't worry about painting the bottom of the rocks, it won't show in the garden anyway! Super easy, right?
Next, you'll have to allow a bit of time for the paint to dry. Did I mention this activity teaches patience, too? ;)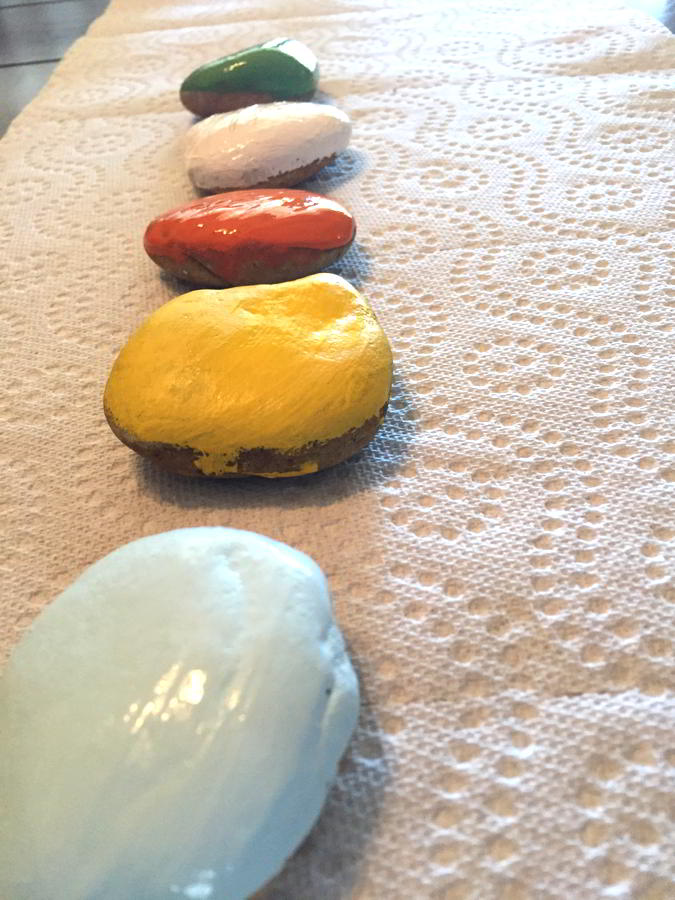 Since you'll have thin layers of acrylic paint, it should take no more than about 15 minutes, but you could always speed up the process with a hair dryer. Just be careful if you do this, as the rocks do get pretty hot for little hands!
Once the base layer of paint is dry, it's time to write the labels and decorate with the marker. Since my guy is working on learning his letters, I kept the herb seed packages on the table.
We did one herb type at a time, and I had him call out the letters from the package to me. "B- A- S- I- L." As he called out the letters, I wrote them on the rock with the marker. He really enjoyed telling me what to write!
We added a few little dots or leaf details to our rocks, but we chose to keep the overall look pretty simple.
Once, the marker is dry, just spray with a few coats of clear sealer and it's all set! You're ready even more gardening fun with your preschooler. There you go! We love our simple painted rock garden markers for kids, and my little guy really enjoyed creating them!
To add to your garden theme, make a "Very Hungry Caterpillar" craft too!
Not looking to plant a garden? Instead of writing herb names, you could also help your child draw silly pictures, shapes, patterns, or just enjoy the bright colors placed around the yard!
What will you write on your garden rocks?