Christmas
Fine MotorToddlersGrade SchoolKindergartnersPreschoolersCardboard Box
Christmas Tree
Push Pins1 Comment
A perfect Christmas fine motor activity from Shawna for kids to create a tree with push pins, paper and a cardboard box! Sort colors or make patterns.
Who else's favorite part of Christmas is the tree? It's definitely mine!
Christmas tree crafts and activities are so much fun for everyone!
Decorating the Christmas tree together is a family tradition of ours. All our ornaments that we hang have a special meaning and place in our hearts.
So that being said, any craft or activity that I can come up with that involves decorating a Christmas tree, is so much fun!
Fine Motor Christmas Tree Decorating Activity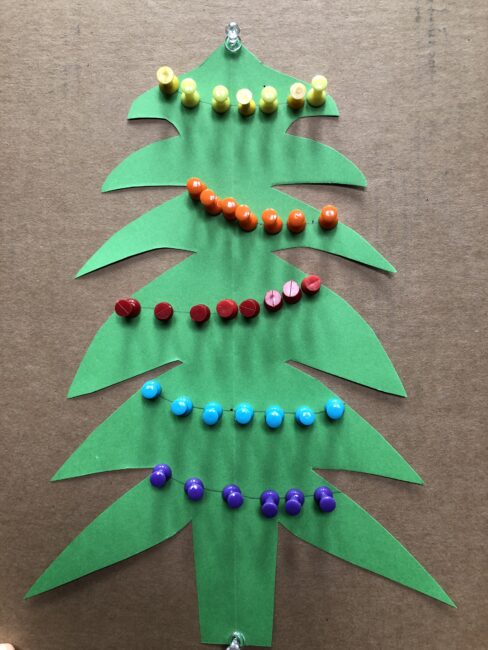 To create your own fine motor Push Pin Christmas Tree Decorating activity, you will need:
First, cut a Christmas tree out of green construction paper.
Place it on top of box and hold it in place with a couple push pins or glue it in place.
Next, draw a couple pencils lines to represent garland on the tree.
And that's it! You're kids are now ready to do the activity.
Fine Motor, Color Sorting & Patterns
Give you child some push pins and ask them to decorate the Christmas Tree with garland.
The task of using push pins in this Christmas activity is amazing fine motor practice for kids.
We have many more fine motor activities you can try out over your Christmas holidays here.
Without even knowing it, your child is working on their pencil grip; soon to be writing their own name!
My daughter instantly took to this activity. She was so excited to decorate her tree!
Immediately, my daughter started to use one color of push pins to decorate each garland line.
You can tell that she loves sorting.
I truly thought there would be haphazard colors but she was much more meticulous than I thought.
Older kids could work on fine motor patterns for their Christmas garland.
In addition to being particular about how her tree was decorated, my daughter noticed that she hadn't used the green colored push pins, yet.
She then asked me to draw another garland line for her. Sure, why not?
She wanted to do more of her fine motor Christmas activity.
That's a win in my books!
Once she had completed this fine motor activity, she then persisted on taking it all apart.
More fine motor practice..why not! That's a great idea.
Do your kids love Christmas trees, too? What crafts or activities have you done? Share you ideas with us.