Activities
Gross MotorBabyIndoor Activities2 Comments
Want to get your baby moving? This simple baby scarf pull activity is the perfect gross motor playtime idea to encourage your baby to get vertical!
Your baby will absolutely love discovering colorful scarves, and she'll be able to practice a lot of motor skills at the same time!
This scarf pull activity was inspired by Rachel in the Activity Room Facebook group.
Want more ready-to-go activity inspiration? Join the Activity Room to engage your child with simple, fun activities, every day!
Easy Gross Motor Scarf Pull Activity for Babies
To do this simple scarf pull activity, you'll need:
Assorted plastic jugs
Paper towel tubes
Scarves
Scissors
Tape
How to Set Up a Scarf Pull Activity for Baby:
This activity is super low-prep! You'll recycle plastic jugs and paper towel tubes that you already have on hand.
First, take a few plastic jugs and trim off the wide bottom side.
You can also use paper towel tubes, but I found that the plastic bottles were a bit more durable for baby play.
Experiment with different sizes of jugs to see which your baby enjoys the most.
Check out these fun upcycled crafts and activities for kids!
Next, just tape the jugs to the wall about two feet up from the floor.
I staggered the jugs just a bit to encourage my baby to try different positions like sitting, kneeling, squatting, and pulling to stand.
I like to use painters tape to avoid any damage to the wall.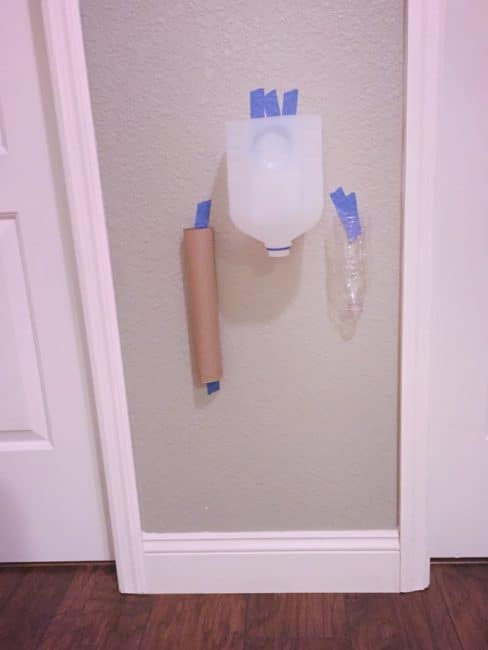 Once the jugs are secure on the wall, just stuff a scarf into each one. Pull out just a bit of the scarf through the narrow neck of the bottle.
You're ready for baby!
Scarf Pull Activity Extensions
She is currently working on pulling to stand and cruising from point to point, so the scarf pull activity was right in her developmental sweet spot.
I love it when my baby learns through play, it's exciting to watch her develop new skills in such a relaxed, natural way.
At first, she crawled over to the wall and pulled at the lowest scarf. She tugged a little, felt some resistance, and tugged a little more!
This activity is a simple way to support cause and effect thinking as well.
My baby quickly figured out that if she pulled hard enough, she could pull out a scarf to chew on!
Find more easy ways to get your baby moving with this colorful scarf circle activity!
After pulling on the lowest scarf, she experimented with standing and reaching for one of the higher scarves. This is such a great way to encourage balance and coordination.
This activity combines both gross motor and fine motor skills seamlessly. It also includes fun sensory input from the soft scarves and hard plastic jugs.
Pulling out the scarves is super fun all on its own. But you can add a fun twist with a game of peek-a-boo, too!
My nine-month-old really enjoyed playing peek-a-boo with the scarves!
Simple baby play for the win!
What are your favorite simple baby play activities? Share your best ideas in the comments!