Activities
Gross Motor
SensoryBabyColors1 Comment
Change up your baby gross motor play with this colorful scarf circle from Julie.
Babies love exploring different colors and textures!
This no-prep colorful scarf circle will help your baby develop gross motor skills and stimulate her senses as well.
Read here for more simple baby activities to do this week.
Set Up the Scarf Circle
Short on time? You can prep for this baby play activity in less than two minutes.
Here's what you'll need:
a flat surface on the floor or your bed (Never leave your baby unsupervised on a bed or raised surface! Keep your eyes and hands ready in case she decides to roll.)
a handful of colorful scarves, neckties, or other fabrics
Just arrange the scarves in a circle and you're all set!
Baby Gross Motor Play
For this baby play activity, I started my daughter out on her back in the middle of the circle.
She's rolling both directions now, so I like to give her every opportunity to practice those gross motor skills.
If you love this baby play idea, you'll enjoy making this edible paint for babies!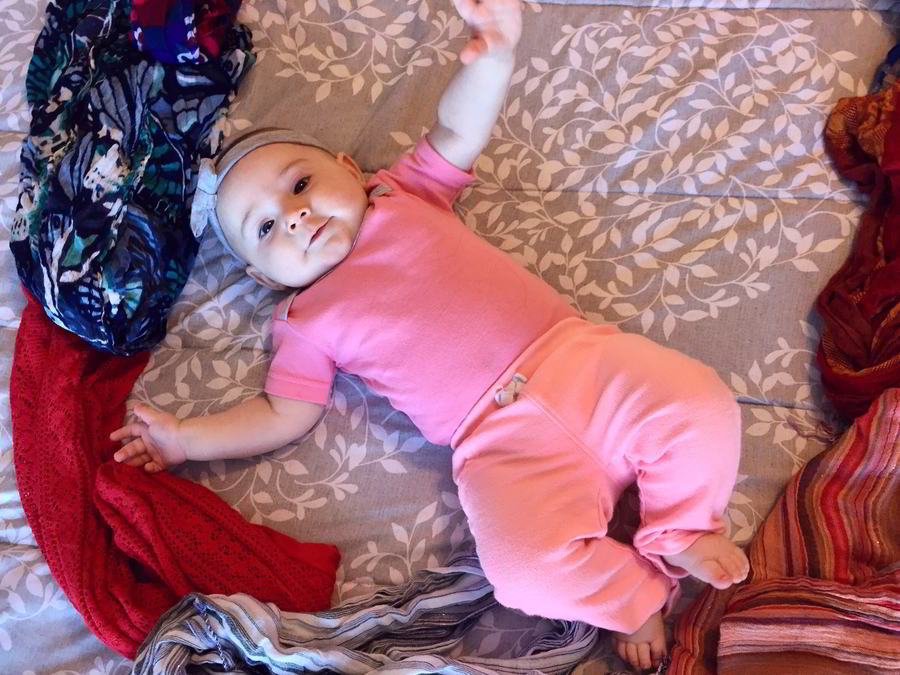 As soon as the colorful scarves caught her eye, she flipped right over to her tummy!
She loved exploring the scarves with her fingers (and mouth, of course).
Try these 48 activities to explore sight, sound, taste, and smell.
I pointed out different colors and talked to my baby while she played.
As she explored, I encouraged her to turn from side to side to view each scarf in the circle. I pointed to every scarf and called her with my voice to show her where to look next.
This is a simple baby play idea you can easily set up over and over again.
You baby will love it every time!
To switch things up, you could even hide toys in the scarves for your baby to find. It's a great way to teach object permanence!
So simple, but so much fun!
For more fun with your baby, try this quick make and play edible sensory rattle!
How do you encourage your baby's gross motor development?