Autumn
Crafts
Halloween
HolidaysPreschoolersMonsters
Yarn28 Comments
Yarn Monsters! Just in time for the spooky Halloween season.
There's not much to these monsters, but I think they turned out kind of cute.
Henry and I used the same technique we did for our Yarn Circle Garland.
Henry did very well cutting the yarn this time. I handed him a pair of my scissors (boy, was this a special occasion to him!), and he had no problems at all cutting it. (He still holds it funny, but getting much better each time.)
The process is pretty simple. Add the cut yarn to some glue (water it down a tad to save on glue, but not too much either).
Drop the yarn into a muffin tin and let dry.
You can either be super patient and wait a couple of days or you can stick it in the oven for a good half hour on a low temp (200F or so).
Once the yarn is completely dry, you can take them out of the muffin tin.
Then by simply adding a googly eye to each yarn circle, Henry made monsters!
You'll love these 10 Halloween monsters for the kids to make too!
Not so scary… Pretty cute actually.
I added a couple pom pom feet to some of the monsters.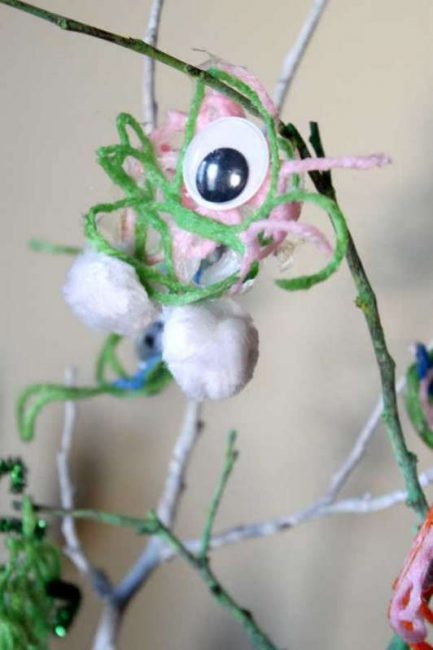 But Henry didn't like them that way.
I wasn't sure what to do with the monsters, so I added them to our holiday tree.
They don't quite belong there… So I'm still on the lookout for a new home for our one-eyed monsters.
I think a spider web may be in the monsters future.
Need more Halloween monsters? Check out these at I Can Teach My Child.