Fine MotorKindergartnersPreschoolersToddlersAnimals
Busy Play
Tape3 Comments
Rescue toy animals by pulling tape in this super simple fine motor activity that's perfect for toddlers and preschoolers both to do at home!
For more fine motor activities be sure to check out Improve Kids Fine Motor Skills with 30 Materials & Activities!
If your house is anything like mine, you have a tape shortage.
Need to wrap a Christmas present?
Repair a ripped book?
Well, you're probably out of luck because the kids used the last of the Scotch tape to decorate their dresser….and the dog.
This fun animal tape pull rescue activity takes advantage of kids' undying obsession with tape!
Fun Animal Tape Pull Rescue Activity (Three Ways!)
To make your own fun animal tape pull rescue activity, you will need:
painter's tape (or really any tape will do, but remember that shortage I mentioned?)
small plastic/rubber toys
Each version of this activity does take probably five minutes of prep time to get the tape ripped and the animals stuck.
If you have older kids, recruit them to help you!
My toddler also enjoyed handing me the toys that he wanted me to use.
Tabletop Animal Tape Rescue
Grab your painter's tape and a bunch of small plastic or rubber toys.
Rip off short sections of tape and use them to tape the animals to the table.
Let the animal tape rescuing begin!
As long as the tape didn't get all balled up in itself, I re-used it to tape something else.
Burn some energy with these activities using just a few lines of tape!
Under the Table Animal Tape Pull Rescue Activity
This is basically the same as the first version, but this time you tape the toys under the table, on the table legs, under the chairs.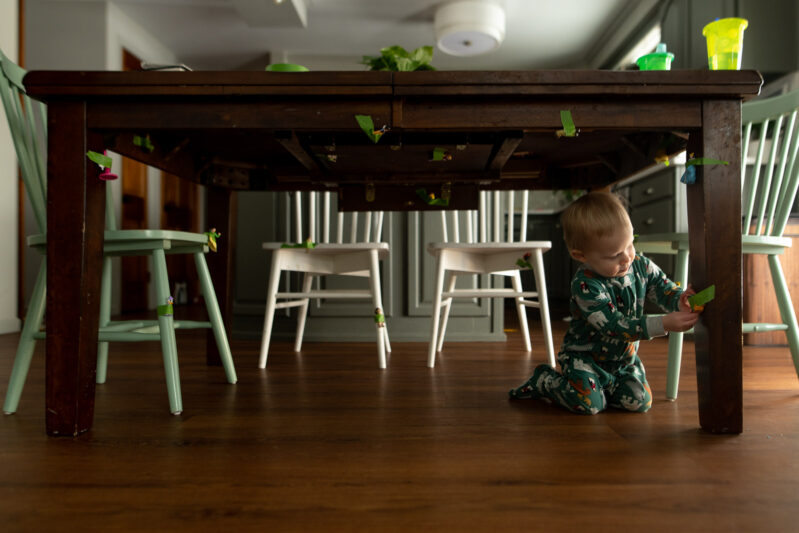 Your child will then crawl around and rescue the animals from the tape.
Get creative with these tape-resist art activities!
Rescue Toys from a Wall or Window
Use the painter's tape to stick the small animal toys to a wall or window.
If needed, you can give your child a chair or stepstool to help them reach.
More Ways to Do an Animal Tape Pull Rescue Activity:
For older kids learning letter sounds, ask them to rescue, for example, "An animal that starts with H."
Use toy cars and have your kids find specific colors.
Read "The Day the Crayons Quit" and tape the various crayon colors around for your child to find.
Count the number of animals from a category (i.e. cats) and have your child find all of a category before starting to rescue a different category from tape.
For a fun twist, do this version of the activity at night with a flashlight, or throw a big blanket over the table. Your kids can pretend they are in a cave!
Hide the toys all around a room. Make it more or less difficult depending on the age of your child.
Here are tons more activities that use tape!
What toys will your kids want to rescue? Do they love tape as much as mine do?