I put together this list of lots of block activities for preschoolers and even toddlers using common blocks that are found in most homes – wooden blocks, Legos, and ABC blocks.
We tend to have blocks out a lot around here.
Whether its legos, or wooden blocks, or our ABC blocks [these are all affiliate links, thank you for your support!], we include them in a lot of the activities that we do.
Blocks are kind of a staple in most households, am I right? Boys and girls both like blocks. They're a lot of fun!
Turns out, kids can learn a lot from these simple toys. But, what exactly?
Childhood 101 goes into some specifics of adding literacy to the block corner, and Picklebums gives us a little insight on why block play is so important to kids.
And I've collected some wonderful ways to play with blocks, so we can maximize our use of these awesomely, simple toys [aren't the simple toys the best because they can be used the most ways?].
---
Wooden Block Activities:
Counting & Stacking Towers
hands on : as we grow
Add Velcro to Blocks
Chasing Cheerios
Block Maze
A Little Learning for Two
Fill in Block Shapes
The Activity Mom
Block Racing Game
Under the Big Top
Block Dice
A Little Learning for Two
Blocks on a Sticky Easel
Teach Preschool
Measuring Area with Blocks
Kindergarten Lessons
Tower Building Contest
Mama Pea Pod
Floor Puzzles with Blocks
hands on : as we grow
Block Bowling
A Little Learning for Two
Block Shape Sorting
hands on : as we grow
Sorting Blocks as a Graph
hands on : as we grow
6 Activities for Unit Blocks
Guest post by EduArt 4 Kids
Building Towers to Match Photos
hands on : as we grow
Learn Letters with Letter Blocks
hands on : as we grow
Counting with Blocks & Dice
hands on : as we grow
Matching Shapes Block Activity
hands on : as we grow
---
Lego or Duplo Block Activities:
Counting with Legos
Make, Do & Friend
Building Lego Letters
A Mommy's Adventures
Spelling Words with Legos
This Reading Mama
Duplo Printing
Picklebums
Lego Puzzle Mix and Match
I Can Teach My Child
Baby Lego Painting
No Time For Flash Cards
Dental Hygiene with Lego Blocks
Mama Bee from the Hive
Lego Mazes
Csupamoka2
Lego Cards to Make
My Little Princess World
Test Structure Stability
Science Sparks
Lego Play Dough Prints
Toddler Approved
Lego Patterning
hands on : as we grow
Lego Counting & Writing
Crayon Freckles
Lego Measuring
NurtureStore
Lego Rainbow
Toddler Approved on Kid Activities Blog
Lego Shaped Ice Cubes
Creativity My Passion
Combining Numbers & Adding Blocks
Montessori Tidbits
---
ABC Block Activities:
ABC Block Learning Game
hands on : as we grow
ABC Matching/Letter Recognition
2 Care 2 Teach 4 Kids
Spelling with ABC Blocks
Having Fun at Home Blog
Printing Words in Play Dough
A Little Learning for Two
---
Build with Blocks:
Build a Zoo
Sense of Wonder
Fire in a Building
Little Hands, Big Work
Build an Airport
Brick by Brick
Buildings with Tape Roads
Inner Child Fun
Build a City
hands on : as we grow

An ongoing collection of these and more block activities found on Pinterest: Blocks of Fun!
What simple toys are a staple at your house?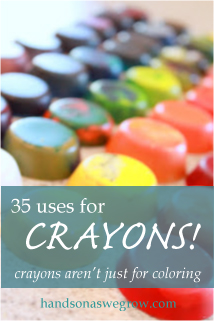 Find 35 uses for crayons too! You can do way more than just color with that box of crayons!
This post contains affiliate links. Thanks for all your support!