Science
SensoryPreschoolersExperiment
Upcycle1 Comment
My kids not only loved to make these wave bottles, but now fight over which wave bottle is theirs! Good thing we labeled them!
About a month ago, Henry attended a day camp that the local 4-H put on. It was a beach theme party and they made several crafts during their day.
Henry's favorite craft he brought home was an Ocean in a Bottle. He was very adamant to make a wave bottle like this for each of us in the family.
Henry led this activity from start to finish.
We needed bottles and I didn't have any, except for green ones (because I'm a Diet Dew drinker) and that just wasn't going to work for what he had in mind.
While I was on a weekend trip, the boys stayed with their Grandma. Henry asked if she had any bottles on hand. And she did. She sent home four bottles with them. One for each of us in the family. Henry didn't want to make another wave bottle for himself, he already did one. So he wanted to make one for everyone else.
I helped fill the bottles with water (used a funnel).
Henry told me when to stop. He looked at the wave bottle he brought home to see how high the water line was and compared it to the bottle I was pouring. He was pretty accurate! It had to be exactly the same! (The water filled about 2/3 of the bottle.)
Henry added 2 drops of blue food coloring in each bottle. George got a kick out of watching the color spread.
And then I filled the bottles with oil (also used the funnel). A clear oil would look the best for this, but I used what I had on hand, and that was plain old vegetable oil.
Don't fill it all the way to the top! You'll be adding in some other items later and you don't want it to overflow. I may have done that…
Watching as the oil went in was neat to see the bubbles!
Then the boys had fun adding their special items to each of their wave bottles. Henry filled two of the bottles and George filled the other two.
I'm not sure if it would be better to add the items before adding the oil or not, but this is the way Henry directed the activity.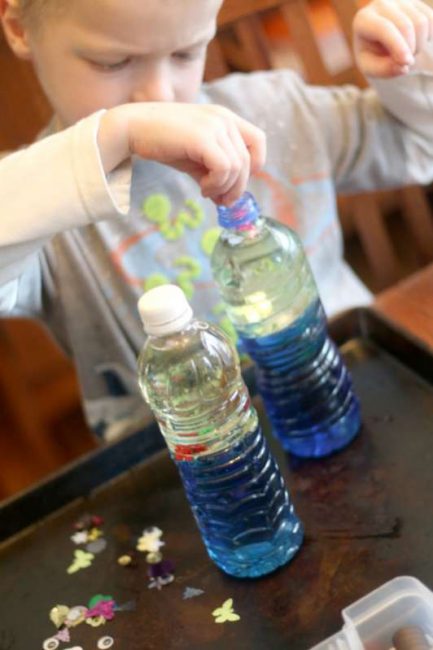 In the original inspiration for our wave bottle, Henry's 'ocean in a bottle' contained glass fish figures and other sea creatures. I didn't have those on hand. So we dug through our craft cupboard and found sequins, pom poms and googly eyes to use. Beads and glitter would also work.
George added lots of pom poms and sequins, whereas Henry added mostly just sequins.
They both thought it was funny to add googly eyes.
The pom poms didn't sink through the oil, instead they stayed floating in the oil, which I think ended up being a really neat affect. They stay in their 'bubble' as the bottle gets shaken.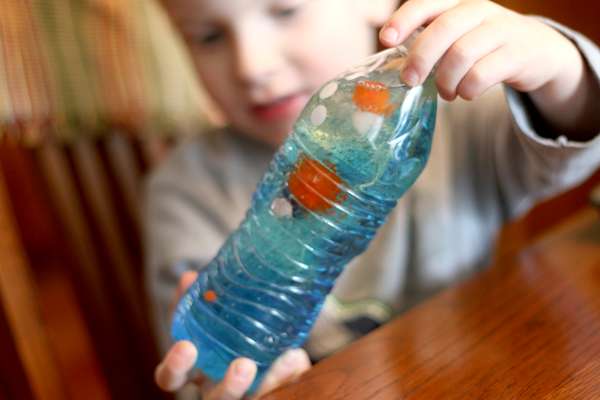 Once all the objects have been put in to their satisfaction, we super glued the lid on. That's a very important part of making a sensory bottle!
The Imagination Tree made an ocean and waves discovery bottle with sea shells and all the cool trinkets!
We've also made an edible sensory bottle too that's perfect for babies to make and soapy sensory jars that are a great toddler activity.