CampaignKindergartnersFort
Fort Magic Kit
Toys134 Comments
Fort Magic is one of our favorite ways to build a fort, check out all the ways we've built forts here.
(By the way, this post contains affiliate links to support Hands On As We Grow.)
Nothing has compared to the Fort Magic kit we recently received from our sponsor. I am so excited to share this ultimate fort building toy with you!
What kid doesn't absolutely love to build forts? We have found the ultimate way to build a fort!
My kids build all kinds of forts. We have couch forts all the time. They often turn into cars for some reason. You could even build a fort using towels.
We dug into it this awesome fort building kit right away and started building.
It comes with a handy book of ideas that lays out all the pieces needed.
Which makes it much easier to sort through all the 382 pieces there are!
Henry is a great fort builder! He's right at the age they recommend using Fort Magic, 5.5  years old.
George could do it too, but putting the pieces together tight, with a twist, is kind of tricky for him (kind of like putting Legos together tightly, it takes that little bit of oomph that younger kids don't quite have the strength in their hands yet).
Henry and George first chose the mansion to build from the instructions book.
This was so great for Henry to look at the picture and build it.
Much like the building with blocks and technology idea I shared, but on a much grander scale, which makes it so much fun! There so much learning going on as they build a fort!
Then it was time for a submarine.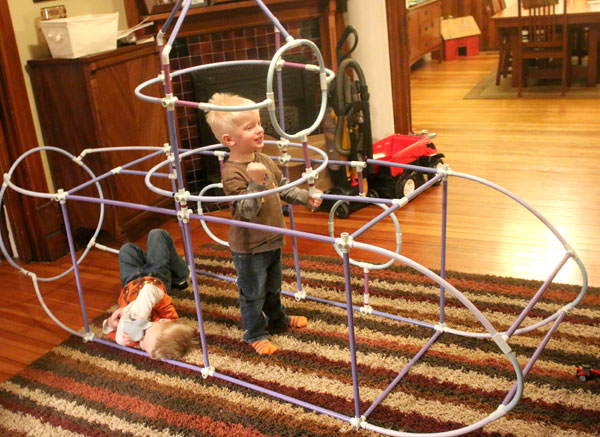 After the boys built the fort, I covered the fort with fabric and sheets (the Fort Magic kit does not include the fabric covers).
Fort Magic has some cool tricks and tips for covering your forts that I found very helpful.
If you want, they even have patterns for each of the fort ideas so you can get a real snug fit.
But we just used old sheets we had that are set aside for painting drop cloths. (Don't laugh at my sheets!)
And then it was just time to make whatever we wanted! We got creative!
There's so many ideas that I can't wait to keep exploring it with them.
A few Fort Magic tips to build a fort to its fullest potential:
Push the pipes and connectors together and give it a twist, they'll stay put then.
Start with a simple, square fort to cover to get the hang of first (I found covering the fort the hardest).
My kids and I are not the only ones that love this ultimate way to build a fort! Check out the Fort Magic customer reviews to see how much other families love to build a fort with Fort Magic!
Disclosure: This is an awesome way to build a fort. And I only got the chance to show you because Fort Magic has sponsored this post and the giveaway. Hop over and tell them thanks in any way you can!