Gross MotorPreschoolersGrade SchoolKindergartnersJumping
Obstacle Course
Outdoor113 Comments
I have been dying to make an obstacle course for kids in the backyard for years.
I just never really had any spectacular ideas of what to make it with.
Even though we've made a simple crawler obstacle course, and even a learning obstacle course inside.
Taking it outdoors daunted me.
I knew it needed to be simple for the kids to understand. Because making a map of what they needed to do was going to be beyond me to make, and the kids to read it.
I had the idea to try making a backyard obstacle course with Fort Magic which is the fort building kit we happened to have already.
But you could make this type of obstacle course with a variety of play items you may have lying around that you never considered for this purpose!
Some ideas:
Hula hoops
pool noodles
tent poles
kids play tunnels
tires
pails or flower pots
ropes or extension cords
scrap wood
lawn or camping chairs
hockey sticks
broom handles
small step stools
large LEGO© blocks
or even just large sticks hammered into the ground.
So here it was, I finally realized that using the Fort Magic kit that we have and using it for something other than a fort was going to be a brilliant idea!
We turned it into a backyard obstacle course for kids to get active!
How to Make a Backyard Obstacle Course
The possibilities are endless of what to make for obstacles, but this is what we did.
We had five obstacles for the kids to run through, with the added fun of capturing flags.
I made the obstacle course in a straight line, going up the hill in our backyard. The hill being an obstacle itself.
The kids were to run up the hill through the obstacles and back down through the obstacles again.
First Establish a Start/Finish to Your Backyard Obstacle Course
I made a start/finish gate with an arched top using curved pipe pieces.
You could also do this with two chairs and a pool noodle arched between them. Or maybe a tent pole poked into the dirt at each end forming an arch.
I attached ribbons to it to make it a fun entrance and exit!
Since my obstacle course was designed to go through forward and then in reverse I only needed one entrance/exit point in the backyard.
Next Add a Belly Crawl
Then came the belly crawl portion of our backyard obstacle course.
A short tunnel for the kids to crawl through on their bellies.
Much like a 'circle' tunnel, but shorter and closer to the ground to make them actually slither on their bellies.
But you can also use things like lawn chairs lined up next to each other to crawl under, hula hoops, or a ladder propped up of the ground
Or take pool noodles and use tent pegs, dowels or long skewers to hold them in place like Raising Dragons did.
At the end of the tunnel I attached a 'flag' (aka ribbons clipped on) for the kids to capture as a victory!
Add a Slalom to Your Backyard Obstacle Course
The next, and probably the most favorite, obstacles was the slalom.
A row of poles for the kids to weave in and out of.
Again, with a flag at the end attached to it for the kids to grab.
You can use tall stools, large sticks, pool noodles again with a longer stick inside them, tent poles, buckets, hockey sticks in buckets of rocks/sand, cones, or even large LEGO block towers.
Create Hurdles for the Backyard Obstacle Course
The next part of our backyard obstacle course was the hurdles.
I made three hurdles in a row for the kids to jump over.
One shorter in height and two a little bit higher.
I was hoping to make each getting higher, but that proved to get too high for my boys, they can't quite jump over it any higher yet.
You could use laundry baskets upside down with hockey sticks or broom handles poked through the open holes. Scrap wood propped up on small step stools or bricks, ropes tied between two weighted chairs, or even tires.
A Squeeze Though Ending to the Backyard Obstacle Course
And the last obstacle once again used ribbon.
I used two poles and attached two pieces of ribbon, one high and one lower, for the kids to squeeze through.
When they finished going through this part of the course, they grabbed the flag and headed back down the hill through the backyard obstacles again.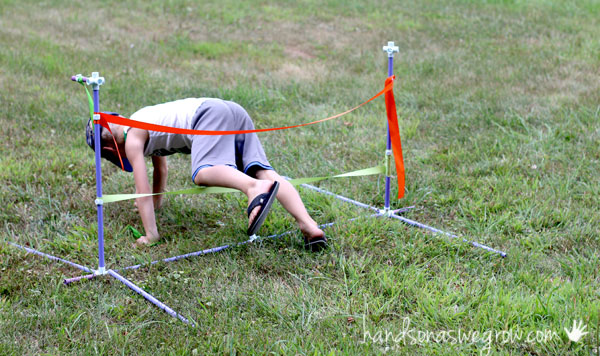 More Obstacles Courses for Kids to Try:
Try this at home and let us know how it goes!