Gross Motor
SponsoredPreschoolersGrade SchoolFort Magic Kit
Outdoor110 Comments
I have been dying to make an obstacle course for kids in the backyard for years.
I just never really had any spectacular ideas of what to make it with, even though we've made a simple crawler obstacle course, and even a learning obstacle course inside… taking it outdoors daunted me. I knew it needed to be simple for the kids to understand, because making a map of what they needed to do was going to be beyond me to make, and the kids to read it.
This past year, I've had the great opportunity to partner with Fort Magic, the ultimate fort building kit (see my kids in action with the ultimate fort building kit here), to show you some fantastic forts you can make with it and how easy it is.
However, I finally realized that using the Fort Magic kit that we have and use it for something other than a fort was going to be a brilliant idea!
We turned the Fort Magic kit into a backyard obstacle course for kids to get active!
The possibilities are endless of what to make for obstacles, but this is what we did.
We had five obstacles for the kids to run through, with the added fun of capturing flags.
I made the obstacles in a straight line, going up the hill in our backyard, the hill being an obstacle itself.
The kids were to run up the hill through the obstacles and back down through the obstacles again.
I made a start/finish gate with an arched top using Fort Magic's exclusive curved pipe pieces.
I attached ribbons to it to make it a fun entrance and exit using the Fort Magic clips that are normally used to clip the sheets onto the fort to make them stay in place.
Then came the belly crawl.
A short tunnel for the kids to crawl through on their bellies. Much like the 'circle' tunnel I made for the kids inside, but shorter and closer to the ground to make them actually slither on their bellies.
At the end of the tunnel I attached a 'flag' (aka ribbons clipped on) for the kids to capture as a victory!
The next, and probably the most favorite, obstacles was the slalom.
A row of poles for the kids to weave in and out of.
Again, with a flag at the end attached to it for the kids to grab.
And then it was the hurdles.
I made three hurdles in a row for the kids to jump over. One shorter in height and two a little bit higher. I was hoping to make each getting higher, but that proved to get too high for my boys, they can't quite jump over it any higher yet.
And the last obstacle once again used ribbon. I used two poles and attached two pieces of ribbon (using the Fort Magic clips once again), one high and one lower, for the kids to squeeze through.
When they finished going through this one, they grabbed the flag and headed back down the hill through the obstacles again.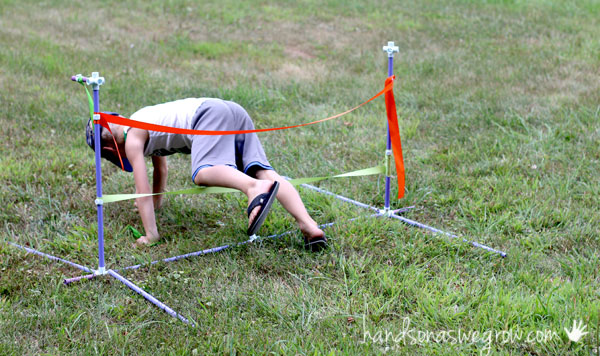 More obstacles courses for kids to try:
A few Fort Magic tips to that will help make the best fort, or obstacle course for kids:
Push the pipes and connectors together and give it a twist, they'll stay put then.
Start with a simple, square fort to cover to get the hang of first (I found covering the fort the hardest).
Read Fort Magic's tips for covering your fort, it'll help with connecting the ribbons and flags too.
A Chance for your to win a Fort Magic Kit!
You get a chance to win the Fort Magic kit as well, or you can buy Fort Magic here.
Fort Magic is so generously giving away one of their kits, valued at $199, to a hands on : as we grow reader.
Ways to enter to win your very own Fort Magic Kit:
Tell us in the Rafflecopter form entry below that you did the following.
This has been a sponsored post for Fort Magic.