Campaign
Math & 123sAll AgesFort
Fort Magic Kit
Giveaway165 Comments
The boys have been loving their Fort Magic Kit! It definitely is the ultimate way to build a fort!
Endless possibilities equals some super happy kids.
Its been such a fun toy to have around the house. I'm so excited to be working with Fort Magic again to share their awesome toy for kids. Plus, we have another giveaway for one of their kits! Enter to win below!
Fort Magic has had some big news lately. They recently got awarded Dr. Toy's Best Classic 2014 Toy Award, so head on over to their Facebook page and tell them congratulations.
The kit comes with a book full of ways to build a fort, different ideas, concepts and blueprints for all the different ways to build forts. You can see the submarine and 'mansion' fort we built, but lately, we've been exploring what else we can make with the forts.
While the boys have their own pretend play with the fort pieces themselves (think swords, sprinklers, water pipes and plumbing), we also build simple forts and tunnels for simple play!
Check out our latest Fort Magic forts! It was all about shapes. We set up 3 tunnels for the kids to crawl through.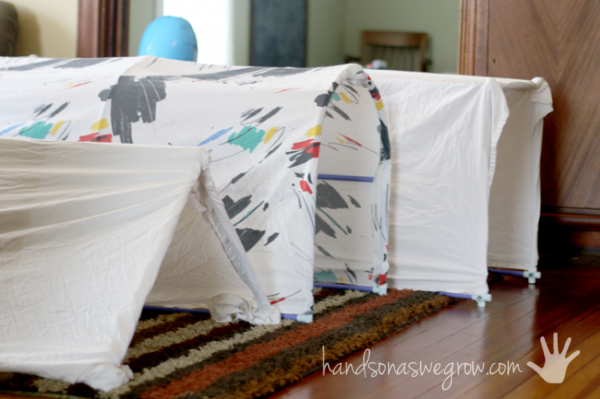 A triangle tunnel, 'circle' tunnel, and a square tunnel.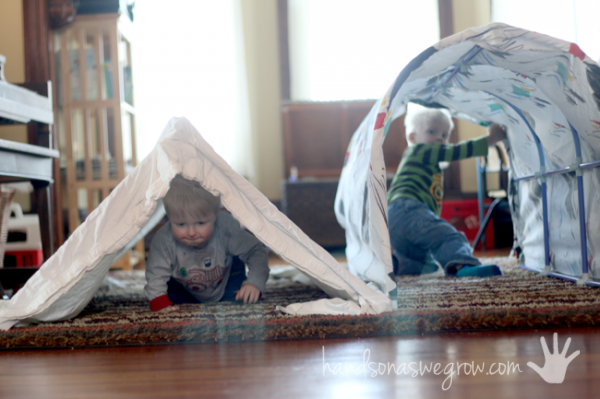 All three boys raced through the tunnels, each claiming their shape.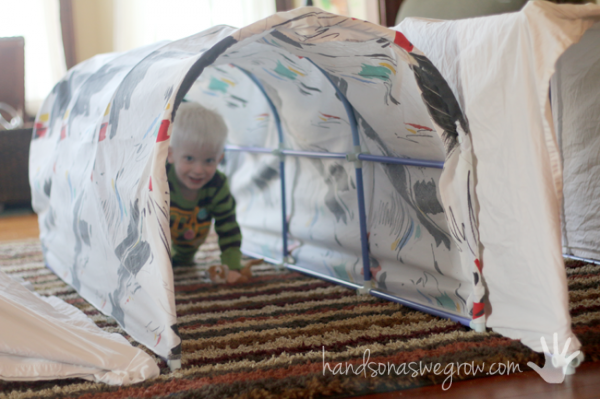 It was a fun way to reinforce shapes for George and even a quick introduction to the shape names for Louis.
All in time, he'll be learning them all too quickly!
I love the diversity of Fort Magic! We can make it be whatever we want it to be and use it in our activities too.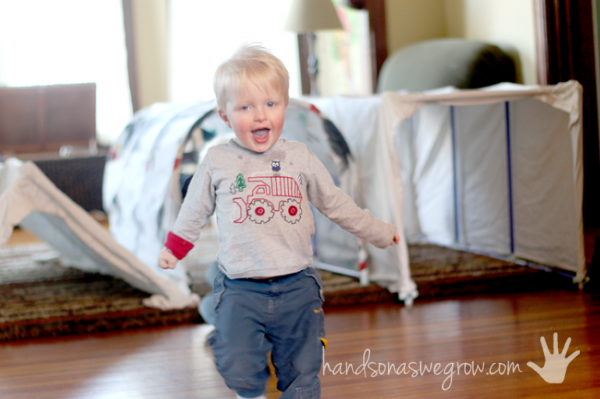 My kids and I are not the only ones that love this ultimate way to build a fort!
Check out all the Fort Magic customer reviews to see how much other families love to build a fort with Fort Magic! There's some excellent tips for building forts on the Fort Magic website too.
Watch the video below for a quick glimpse of how the kids build a fort using Fort Magic.
A Chance for your to win a Fort Magic Kit!
You get a chance to win the Fort Magic kit as well, or you can buy Fort Magic here (affiliate link).
Fort Magic is so generously giving away one of their kits, valued at $199, to a hands on : as we grow reader.
Ways to enter to win your very own Fort Magic Kit:
Tell us in the Rafflecopter form entry below that you did the following.
a Rafflecopter giveaway

Disclosure: Thanks to Fort Magic for sponsoring this amazing giveaway! Let them know on their Facebook page how appreciative we are!