Fine MotorPreschoolersToddlersBusy Play
stickers
Tape3 Comments
This sticker and tape sticking toddlers activity wasn't anything that I had really planned in advance for my toddler, Jack.
His big siblings were making Christmas cards, though, so naturally he wanted to be right there exploring and creating with them.
Thus, this simple sticker and tape activity was born!
Sticker & Tape Sticking Activity for Toddlers
Quite honestly, this is one of those activities that really seems too simple to make a blog post about.
But Jack is my third toddler and I never did this with the older two, so I hope it is helpful to some other mamas out there!
To Make Your Own Simple Sticker and Tape Sticking Activity for Toddlers, You Will Need:
stickers
tape (any opaque kind will work better than transparent tape)
paper (scrap is fine…toddlers don't care!)
This first way is a super simple way your toddler can do this activity all by himself (you know, while you do something fun like the dishes).
And later in the post I will share a different way to get some color practice in, too!
First, stick a long piece of tape to the paper or edge of the table.
I used washi tape because that is what was out for the big kids to use.
Washi tape is not as sticky as traditional tape, so Jack was able to pull it off of the paper as desired.
This was a good thing and added another element of explorative play to the toddlers sticker activity for him!
Next, peel off a bunch of stickers and stick them to the edge of the table so your toddler can easily grab them.
Don't miss this simple name tracing sticker activity for kids!
Alternatively, you can start to peel back each individual sticker and let your toddler finish.
Either way, this sticker and tape activity is great fine motor practice for toddlers!
Don't toddlers make the best concentration faces?
Show your child how to place the stickers on the line of tape or in between the tape.
After this, what happens next is really up to your child.
Jack placed the stickers, lifted them back up, moved them around.
Simple Sticker Color Practice Activity for Toddlers
To change it up a bit, I gave him small squares of colored construction paper.
This is a great way to discuss colors with your toddler.
I said "Can you put a sticker on pink?" and pointed to the pink. Sometimes he would do this, and sometimes he wouldn't.
Either way is totally OK!
Toddlers will still be learning colors through you naming and pointing to them throughout the sticker activity.
When he stuck one on wherever he wanted, I said something like "You put the sticker on the orange paper!"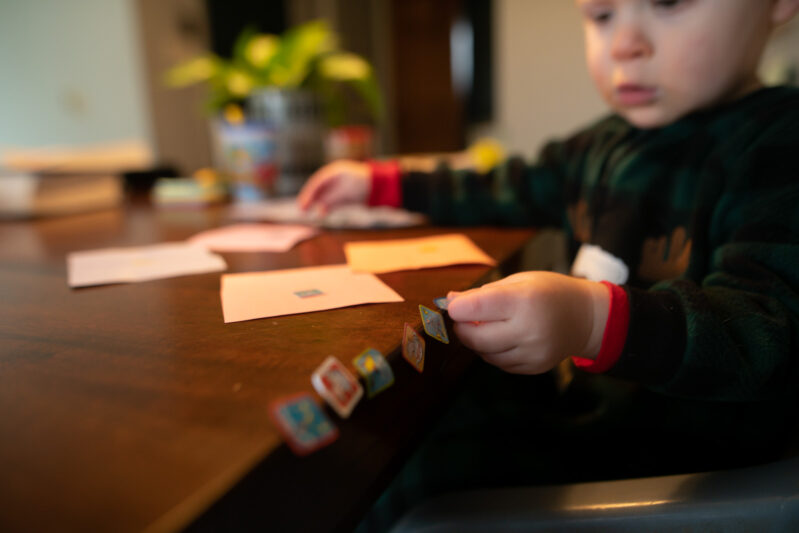 Don't worry about making sure your child matches the colors accurately. At this age, it is all about exploring and learning as you go!
If you want to correct, you can say something like "Oh, you put it on orange! This one is pink!" and point.
He also stuck the stickers to his face and said "Wook!" ("Look!") with a big grin.
He is cute and he knows it.
Overall, Jack spent about 20 minutes sitting completely absorbed in this explorative, tactile play.
Our spontaneous sticker and tape sticking activity for toddlers was a total win.
For anyone who spends their day chasing around a busy toddler, you know this sort of still, self-directed focus is a wonderful thing for both the child and the caregiver!
Go ahead and grab a few more supplies and turn it into a busy box go-to for those times when you just need a moment.
This simple sticker busy box for kids is ideal for quiet time!
How have you and your kids used stickers lately?