Activities
Crafts
Fine Motor
LearningToddlersKindergartnersPreschoolersBusy Play
Mom Tips
stickers6 Comments
Setting up a sticker busy box to entertain your children, like this activity from Alisha, is super easy and has minimal upkeep! 
Are stickers a staple around your home too?
I quickly realized that my kids accumulate a lot of stickers; from restaurants, parties, school, gifts, and even the grocery store. I didn't want these stickers to go to waste, so we started making some sticker art and this cool sticker puzzle.
I wanted something fun for my kids to do with their stickers on a regular basis; so the sticker busy box was born.
This simple busy box has provided my children with hours of entertainment. It's always available for them to take out whenever they feel the need to sticker.
Build more busy boxes with these fun ideas.
The best part of this sticker busy box is once you have put it together (which is super easy), it's a go-to activity that needs minimal upkeep.
Sticker Busy Box Supplies
A container or box
Stickers
Construction paper (any paper will do)
A bag or box of crayons
Build Your Sticker Busy Box
Once you have your supplies, put everything into the box.
I found that using a bag of crayons was easier than having a box. Use what works for your kids and box!
Bam! Your sticker busy box is ready!
Give the box to your kids over and let the sticker fun begin!
I recommend encouraging them to take out one piece of paper at a time for their sticker creation. Once they are done with each piece, you can choose to display it or they can give it away as a gift.
Then they can move on to another piece of paper.
My preschooler chose to create some beautiful abstract art with lots of stickers and coloring.
Spice Up Your Sticker Busy Box:
For some added fun in the sticker busy box, you could pre-make some pages to place in the construction paper pile.
By pre-make, I mean draw or write some things on a few pieces of paper before putting them in the box.
You could also add in pages from coloring or activity books. This might be a great way to repurpose those half-used books.
1. Learning Skills Practice
It's always fun to sneak some learning into any activity and this busy box is no exception.
You can write some letters, numbers, or even shapes onto some of the pages for your kids to trace with the stickers.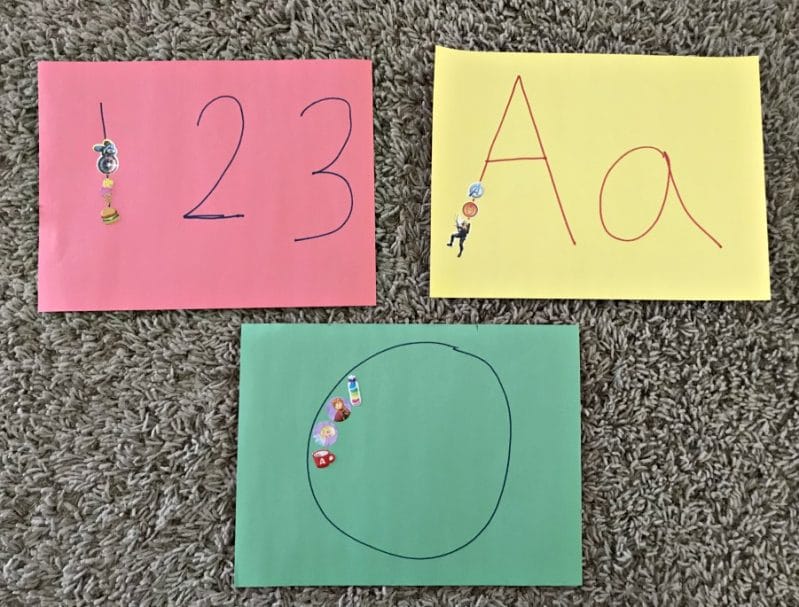 For shapes practice, your children can choose to outline the shape or fill-it-in.
2. Fine Motor Practice
Using stickers is already fine motor practice! Your kids will use fine motor skills to peel off the stickers.
You can add more practice by drawing a design that your children can trace with the stickers. Another idea is to place some dots on the page that they can cover.
This Follow the Line sticker activity is another fun fine motor activity that can be added to the box as well.
3. Name Practice
If your child is still learning to recognize their name or to write their name. Using stickers can be a fun way to practice!
Write their name on a piece of paper and have them trace their name with the stickers.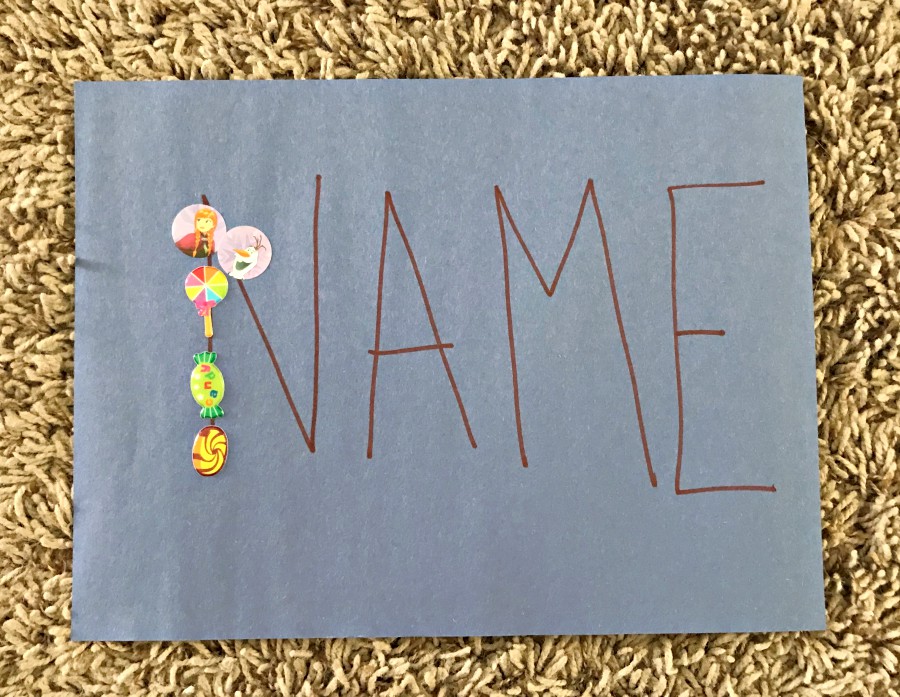 Name practice (especially adding in the skill of tracing and stickers) may take some time. Your child may not be interested right away, but continue to help and encourage.
When they have finished tracing their name with stickers, display it on their door or somewhere special.
Find a fun, accessible, yet hidden place to stash your sticker busy box. Ours is tucked under our couch!
We actually have six busy boxes under our couch! It's the perfect place to slide these easy activities.
My kids know that they can pull these boxes out if they are ever "needing" something to do. Busy boxes are also great for dinner prep time or if you need a few minutes to get something done.
Want more easy activities? Try these holiday-themed busy boxes:
Regardless of how or when you decide to use this super simple Sticker Busy Box, it's sure to be a fun hands-on experience for your kids.
What other busy boxes do your kids enjoy?