Autumn
Fine Motor
HalloweenToddlersPreschoolersKindergartnersCutting
halloween5 Comments
Spiral crafts are great cutting practice for preschoolers, and this spiral ghost craft is so fun for the kids to make this Halloween season!
I have a couple ghost crafts for Halloween coming up, I guess I've been in a ghost-y mood.
This one is a simple Halloween ghost craft that a preschooler can make using scissors.
Its a great cutting activity for them to practice this Halloween!
These spiral ghosts are one of the 15 ghost crafts for kids to make for Halloween.
Make Your Own Halloween Spiral Ghost with Cutting Practice
All You Need For This Spiral Ghost Craft is:
Square piece of white paper
Kids scissors
Black marker or crayon
On a piece of 12×12 white scrapbook paper, I drew a spiral.
I started on the corners, just rounded them out.
And then drew a spiral going inwards. Leaving the center bigger than you think is necessary because that is the ghost's face.
Last Christmas, we made spiral Christmas trees if you're looking for more cutting practice ideas!
This is when your kids get to start some Halloween themed cutting practice.
George then cut along the lines. Cutting off the corners first.
Then he started in on the spiral part of the ghost!
He told me it was pretty hard to do. But he could do it.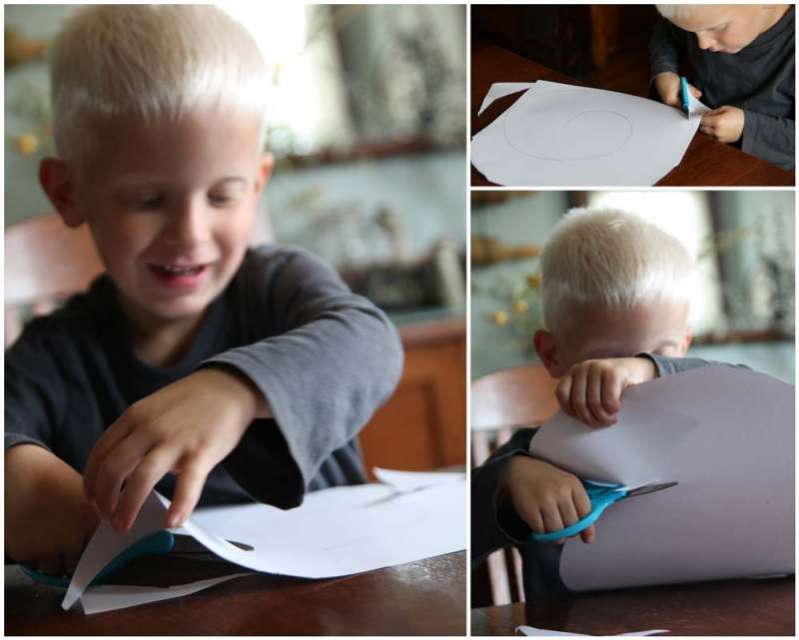 Once the spiral is cut to the center, then George added a face for the ghost.
What makes up a ghost face?
I told George its usually a long black mouth, showing him with my mouth. And then two black eyes over top.
I think he did an excellent job making his ghost face!
I'm not sure if he was rushed or if the spiral really was hard for him to cut.
His spiral got kind of jagged-y when he usually cuts very smoothly. (Take a look at the hearts he cut this past Valentine's Day.)
Even so, its still a pretty awesome spiral ghost!
We hang it above our dining room table right to showcase his Halloween cutting practice skills.
Here Is a Little Bonus:
After we made our spiral ghosts, I found this free printable to make your own from One Creative Mommy. Hers are a little different than ours, so check them out!