Crafts
Fine Motor
Sensory
Uncategorized
WinterShaving Cream
Snowman4 Comments
Get squishy with a fun indoor winter activity building a shaving cream sensory snowman for kids!
The snow starts flying and we all know winter is on its way. If you're anything like my family, the first thing we think of is building a snowman.
But right now, there's not enough snow to build one outside. So we're whipping up this squishy shaving cream sensory snowman inside instead.
We've built a whole collection of super fun sensory activities for kids!
Wintery Shaving Cream Sensory Snowman
To join in the excitement of winter coming, I came up with super fun sensory snowman craft using shaving cream.
Yes, I said shaving cream.
If you're okay with a bit of a mess this is so much fun.
To build your own shaving cream snowman, you'll need:
shaving cream
glue
paper plate
black pom poms
large googly eyes
orange craft foam nose
another of craft foam color for the hat
bowl
mixing spoon or craft stick
As soon as my girls saw the shaving cream they were excited and sat at the table right away. Shaving cream is such a fun sensory activity for kids.
Have Messy, Creative Indoor Winter Fun Together
Before starting the somewhat messy process, we cut out a nose and a hat from the craft foam. That saved us from trying to do this later with super sticky fingers.
To make one snowman, mix together 1/2 a bottle of glue and 1/2 a container of shaving cream in a large bowl.
My girls had so much fun just squirting the shaving cream and mixing it all up together. I let them play with the mixing process for a while as there was so much laughter in the air.
They used spatulas and their fingers to combine the glue and shaving cream. Squishy and stirring was their favorite part.
For me, the best part of an activity is watching my children's reactions.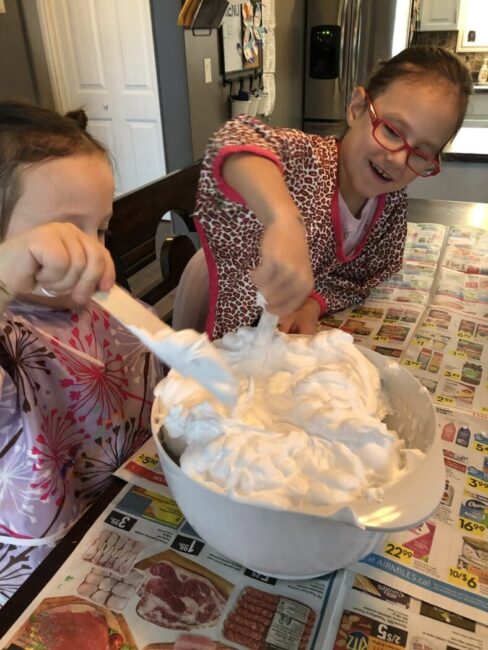 Next, scoop out some of the shaving cream mixture onto a paper plate and flatten it out a bit. We used spoons to scoop and spread the sticky mixture into circles.
My girls instantly ditched the spoon and started using their hands. The squishy foam is such a great sensory experience!
Try these fun sensory 5 senses activities for preschoolers!
Finally, add the hat, googly eyes, nose, and pom pom mouth. Squish them down into the shaving cream sensory snowman's face
Your shaving cream sensory snowman is now complete. Best of all, you can keep your frosty friend around for longer than the winter snow!
Try a creative snowman activity with your kids this winter!
Lay your shaving cream sensory snowman out to dry for a couple of hours. The shaving cream will harden a bit and won't be messy to touch anymore.
Keep Having Shaving Cream Sensory Fun
Once my girls finished making their snowmen, they definitely weren't finished playing with the shaving cream. They dug right in and played with all the leftovers.
They dug around in the shaving cream sensory mix for a few more minutes. they mixed and slathered the gooey foam all over their hands.
I'm sure glad that I thought to stick them in washable cover-ups before we started this whole messy fun activity!
Once they were all through squishing around, I set out a container of warm soapy water for the kids to wash up in. The best part of shaving cream sensory fun is the super simple cleanup!
The laughter, giggles, and smiles from my girls were definitely contagious throughout this whole shaving cream sensory activity. We were all making fun, winter memories.
What are your favorite squishy sensory activities to do with kids inside? Share your creative ideas in the comments!