Art Projects
Big Art
Easter
Holiday & SeasonalToddlersGrade SchoolKindergartnersPreschoolersEggs
Painting
Scrape Painting2 Comments
This super simple paper Easter egg art idea, created and shared by Julie, makes a big impact! Combine a jumbo Easter craft and credit card art for this no-fail egg project.
For more Easter crafts and art ideas, check out this mess-free washi tape Easter egg activity!
Let's be honest, making art with kids can be intimidating. The mess and the stress sometimes make us want to skip these art activities altogether.
However, studies show that art allows kids to express themselves, develop creativity, and build problem-solving skills that help in every area of life!
This Easter, tap into the power and joy of art with your kids! It doesn't get any more simple than this jumbo paper Easter egg credit card art project.
Bright colors and simple materials will make this art project so much fun!
I love that this activity is based on the idea of process art. Process art is all about exploration and creativity. There's no right or wrong way to do it. Every Easter egg will turn out differently, and that's OK!
If you're looking for a simple and fresh take on Easter eggs this year, this scrape art project is perfect. Hop in and enjoy it!
Make a BIG Paper Easter Egg Decoration!
Making this giant paper Easter egg couldn't be any more simple! Even toddlers can create a beautiful jumbo egg painting with a few easy steps.
For this art activity, you'll need:
For more Easter fun, you'll definitely want to try this Easter egg splatter painting idea!
Get Creative with Credit Card Art!
First, drop dots or lines of paint on the poster board. To keep an Easter egg look, try creating stripes with different colors or patterns.
Some paint tends to slide off the shiny side of the poster board. If you find your paint won't stick, flip the poster board over to the paper, textured side!
We used neon tempera paint for our eggs. I love how the bright colors pop!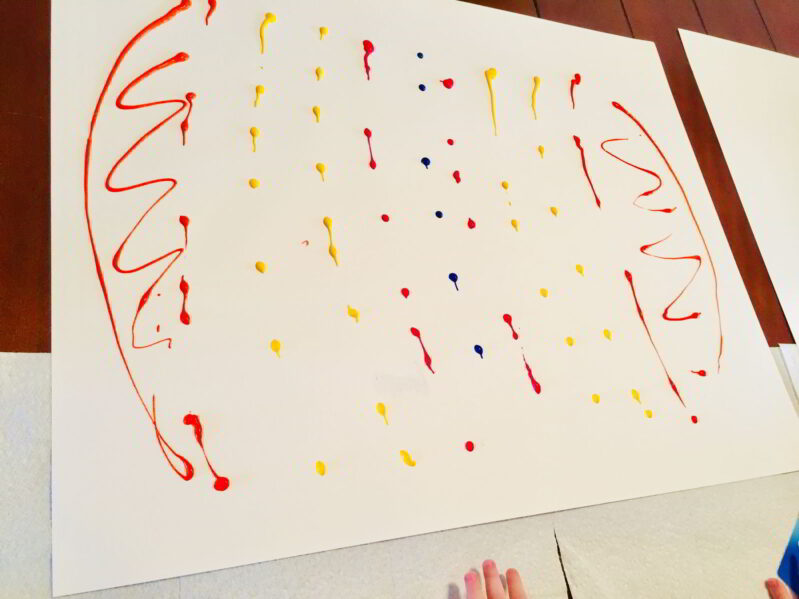 Scrape the Paint with a Credit Card!
Next, use an old credit card, or gift card, to scrape the paint.
Try to scrape in the direction of the stripes to avoid mixing up the colors!
I helped my daughter reach some of hers (because this paper egg is seriously huge!), but she loved scraping the colors together!
However, it's totally OK if your child scrapes in all different directions.
It will still turn out beautiful!
My son loved seeing the dots of paint pop through on his blue background.
All that paint has to go somewhere, right?
It's a great idea to lay paper towels down to soak up the excess paint!
You can also wipe down the credit card in-between scrapes to cut down on the mess factor.
Love scrape painting? Try out this beautiful scrape painting idea to inspire your child's next project!
Trim Your Credit Card Art to Make a Giant Paper Easter Egg!
Finally, trim the poster board into an oval, or egg shape.
Don't those stripes look fresh and beautiful?
This jumbo paper Easter egg art idea is so much fun!
If you love this jumbo painting idea, you'll want to try out this ribbon painting big art project for toddlers!
What are your favorite art projects for Easter?
Have you tried jumbo art or scrape painting before?
Did you try this Easter activity? Be sure to let us know how your Easter egg scrape painting art turned out!