Big Art
Gross MotorToddlersPreschoolersPainting2 Comments
Have you ever walked through your home supply store and seen the carpet square samples?  Guess what…they are FREE and a great tool to use for making some beautiful big art with your kids. You only need a few supplies to make this super simple and super savvy piece of original artwork.
Supplies Needed:
-various colors of tempera paint (affiliate link)
-medium sized rubber bands
-carpet square samples
-painter's tape
-paper plates
-a long piece of butcher paper or upcycle the awesome Amazon paper that comes in their delivery boxes
Activity Preparation:
I found it easiest to take out all of my supplies beforehand, so that I had everything I needed at my fingertips.
Once you have your supplies, head outside (or to a large indoor area) to find a nice big, flat space to tape down your long piece of paper.
After you have taped down the paper, tape down your paper plates next to the paper, and pour one color of paint on each paper plate.
Finally, grab your carpet square samples and rubber bands.  Simply slide a rubber band over each carpet square to make it easier for your kids to hold the carpet squares.
I pushed the rubber band into the carpet as best as I could so that it wouldn't interfere with the look of the painting.
Side note: I had my kids wear their pajamas because they were bound to get paint on them, so wearing a painting smock or other painting clothes is advised.
Painting Process:
When you're all setup, either model for your kids by stamping a few squares first or just let them go, and watch their artwork come to life.
One of the best parts of allowing your kids to control the painting process is that they make some fun discoveries and the artwork is truly their own.
My kids made some interesting discoveries along the way:
-They found that mixing the colors together and swirling the carpet in circles made some really neat designs.
-My preschooler enjoyed using two carpet squares at the same time because he could cover more area more quickly.
-In addition to stamping the carpet squares, both my kids felt that smearing the paint across the paper made a beautiful rainbow of colors.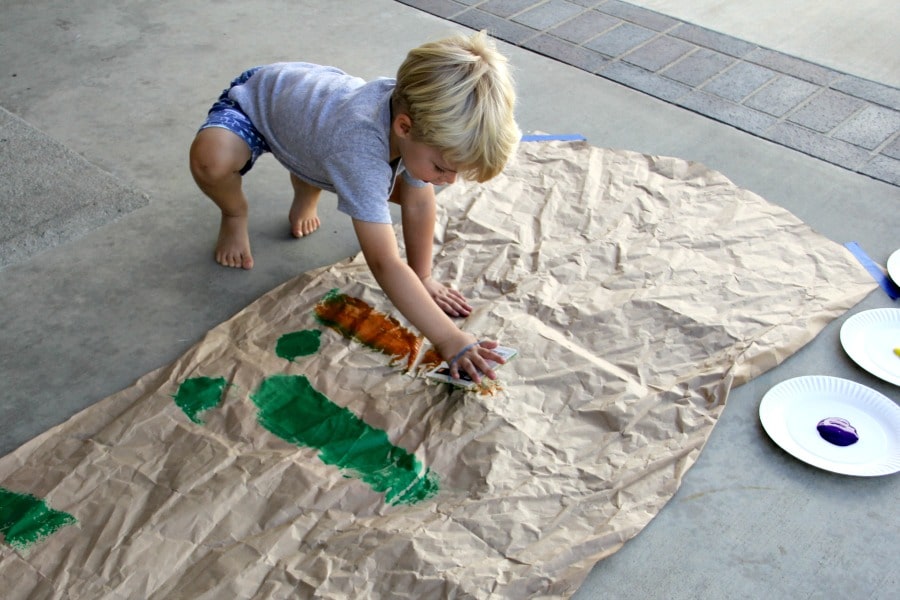 Now what should you do with this giant masterpiece of artwork?
We used it as a table runner for our dining room table, such a fun way to display my kids' artwork and decorate my home at the same time.
Did you find another way to display this beautiful big art?