Campaign
Gross MotorKindergartnersGiveaway
Technology52 Comments
Getting moving indoors is kind of tough sometimes.
Lately, its been so hot outside that we can't really spend too much time out there. And then even when we are out there, the last thing any of us want to do it any amount of work (or running… or anything that will break us out in a sweat).
I recently put together a list of 12 gross motor activities to do inside when it's too hot out like this. But we've found another outlet too that I want to share with you. I was able to get my hands on a way to do fitness with the kids at home. Adventures to Fitness was so generous to let me try out one of their fitness programs!
Literally having the kids really exercise inside! I think this is especially important for kids that don't get enough activity each day or don't have the chance to go outside to run and play.
MORE ACTIVITIES YOU MIGHT LIKE
The Adventures to Fitness program worked great in the morning with my kids to get them up and going (instead of causing trouble with each other or just watching a show), as well as myself! We streamed it on the laptop, but DVDs are also available.
The adventure we've been on is Colonial Chaos. I was shocked! I haven't done intentional exercises in years (bad mom), so I struggle to get through it! Henry's a trooper though. He stayed with the program, he did ask for a break at about 25 minutes in (it's a 30 minutes program) and then got right back to it.
On top of it being physically challenging, there's also learning opportunities throughout the program. Although it was a little beyond my 5 year old, it was full of historical information of the colonies (think Independence Day, the Pilgrims, the Boston Tea Party, and Paul Revere). I think kids just slightly older would really get a kick out of all the information it has and be able to better understand the flow of the program. Heck, it was quite a refresher for myself!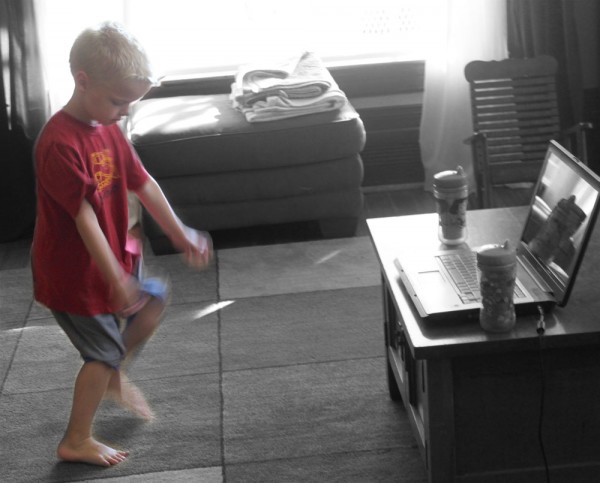 But Henry just thinks its fun to jump, climb and leap throughout it. His favorite though is Mega Mode: running as fast as he can.
I'm looking forward to trying out their other DVDs (or streaming it like we did with this one), especially this one that I have to give away: Adventures to Fitness: Serengeti Stampede!
Enter the giveaway by following the directions in the form below. Entries include:
Leaving a comment below about How you keep the kids moving, or how you and the kids stay fit.
Follow Adventures to Fitness on Pinterest
Follow @AdventurestoFit on Twitter
Tweet about this giveaway!
Disclosure: This is a sponsored review I did on behalf of Adventures to Fitness.