CampaignAll AgesResources
Technology264 Comments
How do you feel about your kids using technology on a daily basis?
I have always had a love of technology. And I want my kids exposed to technology as well.
In my mind, there is no getting around kids using technology. They need to just for the fact to learn how to use it and be familiar with it.
My kids have always had access to my tablet, and we're getting better to letting them use the laptop and computer.
While I love technology for the kids, I also don't want them just staring at a screen for hours either.
I've found so many fun ways of incorporating technology into our every day activities that, in my mind, help it safer for kids using technology.

Right now we can also help make technology safer for kids in schools. Our sponsor, Bing in the Classroom is removing ads and blocking searches from being used for personalized advertising for all Bing searches done through the school's network, making Bing the only major search engine to provide a search offering tailored specifically for the classroom
Make it happen in your school! Yes, I want my school to have Bing in the Classroom and have a safe, ad-free search! Find out if your school already has it, or tell your school district about it here. Let them know you want it for your kids!
As it is with most things, the more we practice, expose, and see something that frightens us, the less dangerous it actually is. Such as my husband wanting our kids learning to ride dirt bikes at a pretty young age. They'll learn it early but they'll also learn the safe way to ride them instead of experimenting with them later and not knowing exactly what they're doing.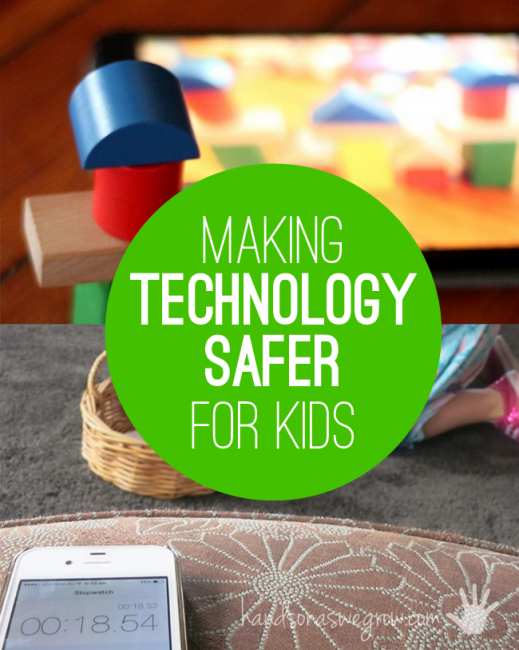 It's the same way with kids using technology… The earlier we expose them and teach them the safe ways to use technology, the more they'll understand of it and can use it in a safer manner.
These are 13 activities that help learn the ins and outs of technology for kids, without actually just staring at a screen.
They're incorporating technology into our activities that we're already doing with them. As a precursor to these, you may want to read my five reasons I think kids should actually watch TV too.
Make a stop action film! Older kids will get a kick out of planning, taking photos, and making a movie come to life! From Kids Activities Blog
Take photos of premade block towers on a tablet. Kids can flip through the photos to find what tower they wa nt to build and replicate.
Follow a loved one on a trip they're taking. Track them down, where are they? Locate it on a real map too! From Kid World Citizen
Dive into augmented reality and kids can see video as they scan photos! The possibilities become endless with this tip from Technology in Early Childhood
Use technology for timing games! Such as a word toss from Learning with Play at Home.
Practice addition and other math problems using technology and a hands on activity from MBG.
Another map activity using a computer is to choose a country on the computer and locate it on a physical map. From True Aim Education
Print out QR Codes to scan and get clues for a scavenger hunt. A St. Patrick's version from Puddle Wonderful Learning
A technology version for kids to name that sound! From Carrots are Orange
Practice writing using photos! This is a great ideas from Daily Learning to the Core
Drawing and art transferred digitally! Then digitally alter them! A creative idea from Handmade Art!
If you're strictly against screen time, or during screen free week, make a cardboard laptop to introduce how it works! From Mama Smiles.

Watch this video to see what Bing in the Classroom does for kids!
How do you feel about your kids using technology?
Disclosure: This post has been sponsored by Bing in the Classroom. I support making classrooms safe using Bing.