Autumn
CraftsPreschoolersClean Up
Leaves
Upcycle2 Comments
Does your child love using Dad's tools? My kids get a kick out of the leaf blower, and now they can make their very own! Reader Corie shares how she and her son make a homemade leaf blower.
Here on the east coast the leaves are beginning to fall. This may be my 3 year old son's favorite time of year because it means more time spent watching leaf blowers! Not to mention aerators and seed spreaders.
We love walking around the neighborhood to see yard maintenance crews working with the fun tools.
We also frequent the local home improvement store to check out the floor model selection of leaf blowers, weed eaters, and lawn mowers. I have put on a backpack leaf blower to pretend, which was only a little awkward when the salesman asked if I needed some help…
Given my son's enjoyment of backpack leaf blowers at the store and around the neighborhood, we decided to create our own!
To make your own leaf blower you will need:
a paper plate
wrapping paper tube or 2 paper towel tubes
2 pieces of ribbon or string, about 2 feet long
duct tape
scissors
markers, stickers, or other decorations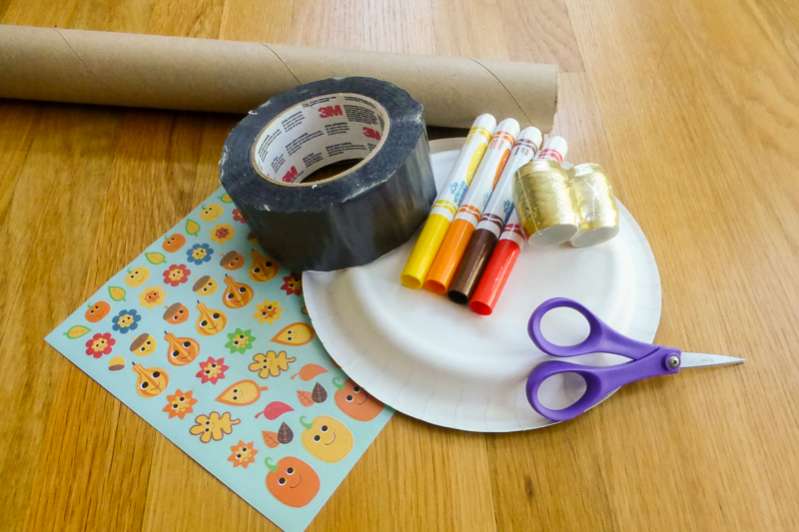 To prep, I used the scissors to make 4 holes in the paper plate. These will be used to attach the ribbon "straps" to the plate. I also used the scissors to cut the wrapping paper tube about ⅓ of the way down. Older kids may be able to do this part.
Have your child decorate the paper plate. My son drew circles around the plate (of course he wanted to use the one I made without decorations in the yard later!) Add a circle to be the "gas tank" and a line to be a "starter" if you would like.
If your child is able, have them thread the string through the hole on the left, then down through the second hole on the left.
Repeat with the right side. Great fine motor practice!
Tie the ends of 1 string together to form a loop making the strap of the backpack blower. Repeat for the other side.
Slide the shorter piece of wrapping paper tube or 1 paper towel tube through the 2 strings on the back, then secure with duct tape.
Duct tape the remaining tube to the tube attached to the plate at an angle. This will be the the part to hold and use to blow all the leaves.
And there you have it – your very own backpack blower!
Ready to use to help with blowing all those fall leaves into piles!