Art Projects
Autumn
Crafts
SciencePreschoolersBubble Wrap
Collage
Colors
Leaves
Nature
Upcycle15 Comments
I feel like a successful hands on mom when my preschooler runs to me with bubble wrap in his hand and says,  "We have to save this and paint with it later!"
That's how this fall leaf collage came about. We made bubble wrap art prints first in beautiful fall colors.
Henry started with dumping red, yellow and orange paint onto a sheet pan.
Then pressing his saved bubble wrap into the paint.
Henry transferred the paint to paper with the bubble wrap!
(He had troubles remembering which side had the paint on it many times… which made a big mess.)
Of course, some red glitter added to the prints make it a pretty piece of art.
Our bubble print art that we had no intention or idea what to do with it.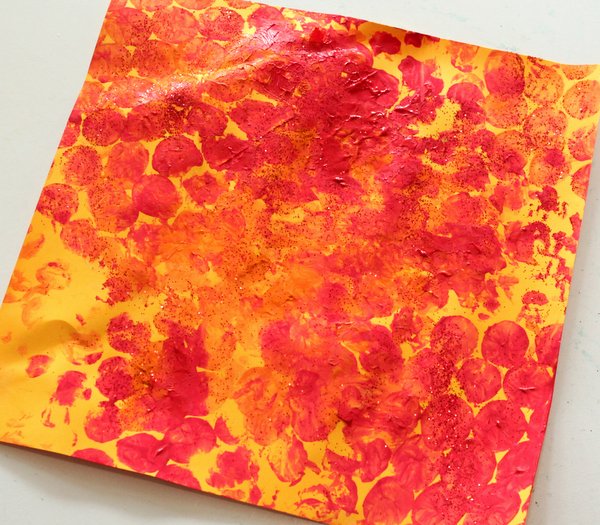 The last few days have been gorgeous weather here. We've been playing outside a lot. The wind has blown a lot as well, and most of the leaves have already fallen.
While we don't have big trees in our yard, we do have some neat leaves that can be found. Henry and I set out on a leaf hunt around the yard looking for pretty leaves. That gave us an idea for our fall colored bubble prints!
A leaf collage was made!
While I cut leaf shapes out of the bubble prints, Henry added glue to another piece of scrapbook paper.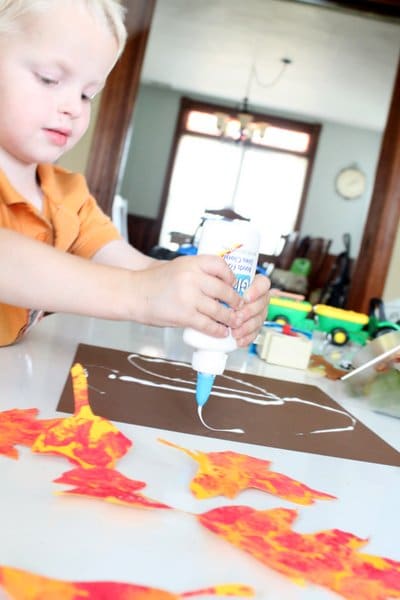 Henry stuck the leaf shapes on the paper.
Then some real leaves were added!
This gave the collage so much dimension as most of the leaves stuck out on the paper.
(I did have to go back and add a little glue to some pieces to make sure they stuck.)
This is the pretty fall leaf collage that Henry initiated with his bubble wrap request!
The bubble prints add a lot of color to the leaves found in nature.
Together they make a very interesting piece of art.
Beautiful art that fits right in with our decor right in our living room.