Math & 123s
Sensory
Spring
ThinkingPreschoolersGrade SchoolKindergartnersColors
Matching
Pom Poms2 Comments
Celebrate Spring with a color matching with pom poms! This hands-on activity from Lisa, is a fun way for kids to learn color recognition and matching.
I love creating activities in our home around the seasons and I was inspired to create this activity as we transition from winter to spring outside! Plus, we've been working on color matching already.
Creating matching activities as part of my kids' learning is a favorite because they get so excited over the challenge!
Sticky Flower Color Matching for Toddlers
I have a large jar of pom poms in my craft closet. My kids love using them in their everyday play and thought they would be perfect for this activity!
Bonus: Pom poms are such a fun sensory item for kids to explore with!
This low prep activity had me drawing colorful spring flowers on press and seal wrap for my three-year-old to color match with pom poms.
This color matching activity is simple, easy, fun to make and play. Plus, learning how to match things is such a fun and essential skill for toddlers.
Play a fun matching game with toy cars together!
Here is what you need for this spring flower color matching activity:
Contact paper or press and seal wrap
Markers
Tape
Colorful pom poms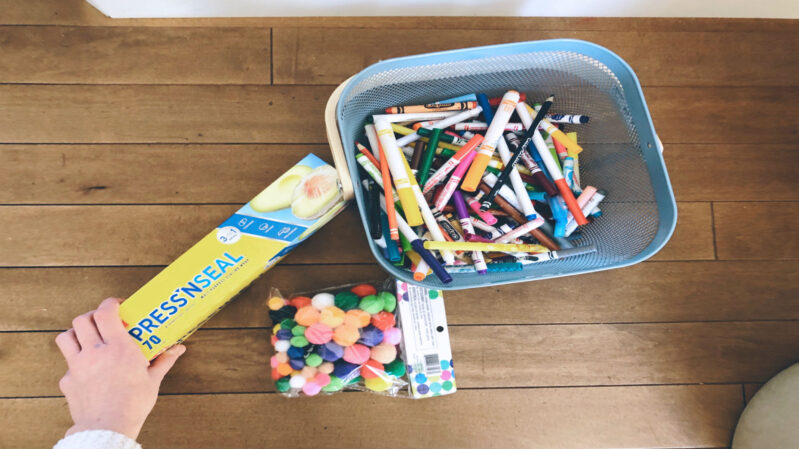 I used tape to secure my two sheets of press and seal up on a wall with the sticky side out.
Once my sheets were taped, I picked a few different colors of markers to draw my flowers with.
When introducing colors, I have found that choosing a few colors to focus on for a few weeks with plenty of repetition has worked best.
For this activity, I chose green, orange, red, pink, yellow, and purple for our flowers.
I taped the press and seal up on the wall for a vertical experience.
If you don't have contact paper or press and seal wrap on hand, flowers drawn on paper and played with on the floor or table would work as well!
Learning Color Matching with Flowers for Spring
Once all my flowers were drawn, I popped matching colors of pom poms into a cup for my three-year-old to pull from.
Toddlers and preschoolers are in the prime stage of learning colors, and this activity encourages visual discrimination by matching.
She was so excited to start matching!
One by one, she pulled each pom pom out and stuck it to the matching flower.
My toddler was able to complete this activity quite quickly, but she wanted to do it again and again.
She loved the repetition of being able to stick and remove the pom poms from the wall.
Bonus: She also did some simple hand-eye coordination practice!
This matching activity also allowed her to work on language skills as she named each color aloud as she pulled from the cup.
I love seeing my kids combine learning all on their own!
Keep on learning colors with this easy color collage.
To extend this activity, pull out all of your spring books and ask your child to point out all the flowers they see in the different illustrations.
You could even make an eye spy game out of it for some added fun!
My little three-year-old really enjoyed this activity and I know yours will, too!
Here's another fun flower sensory play activity for toddlers to enjoy from Playtivities.
Do you have a favorite spring-theme game or activity?
Share your creative ideas with us!