Autumn
CraftsApples
Back to School3 Comments
Start the school year right with an apple stamp tote bag teacher gift idea from Erin!
Apple stamp crafts are so easy and fun for kids to make! This simple apple stamp tote bag takes just a few minutes to make.
Your child's teacher will love it all year long! Take a look at more awesome back to school craft ideas for kids.
Easy Apple Stamp Tote Bag Teacher Gift!
As summer winds down, we're preparing to head back to school. We love doing crafts in the afternoon, especially if it's raining outside.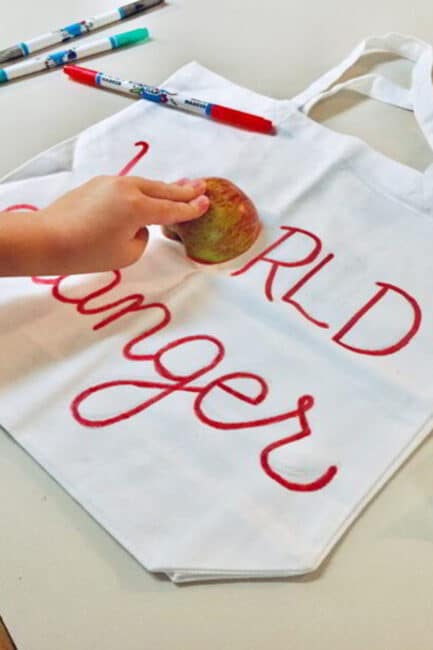 This simple apple stamp tote bag craft was perfect for keeping us busy.
Plus we know my son's teacher will love it when school starts back!
Want to give your child's teacher something homemade this year? This tote is the perfect gift!
For this apple stamp tote craft you'll need:
Blank canvas tote bag
Fabric markers
Craft paint
Apple
Pencil or chalk
Get Apple Stampin' with Your Your Kids
First, decide on your design. We chose to make our tote say "World Changer."
Teachers really do change the world. I can't wait to give this tote bag to my son's teacher this year!
You'll also love this beautiful yarn apple craft for kids to make!
Trace out your letters with pencil or chalk. You could also easily use stencils if you're not comfortable with your hand lettering skills.
Be sure to leave enough space for the apple wherever you'd like it in your design. We made the apple take the place of the "o" in "world."
Once your letters are traced, write them in permanently with fabric markers. You could also use a thin paintbrush and craft paint, but fabric markers make this step so easy!
Love stamp crafts? Try this suprisingly easy linocut fine art project.
Next, cut your apple in half. I blotted it with a paper towel to remove a bit of the moisture.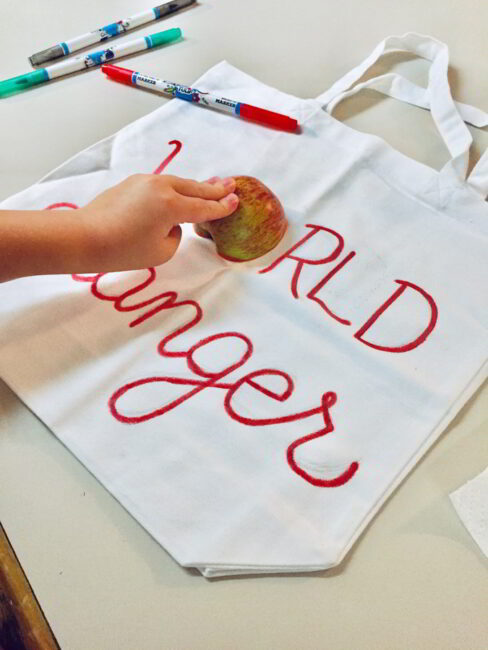 Then let your child paint the apple with craft paint.
Carefully stamp the apple in place on the canvas. Give it a good press, then lift it off.
Beautiful!
We decided our apple needed a stem and leaf, so I drew those in with more fabric markers.
You won't want to miss this guide to making homemade gifts with kids!
All done! This simple apple stamp tote bag craft is perfect for a teacher's gift.
Just fill it with school supplies, and your child's teacher will love it!
Do you make or get your child's teacher(s) back to school gifts?