Autumn
Crafts
Fine MotorPreschoolersApples
Back to School
Cutting
Name
Resources8 Comments
Celebrate this time of year with back to school crafts for your preschooler. These all have cutting elements in it to practice scissor skills.
My kids are officially back to school again after a majorly fun summer (and exhausting for this mom…)!!
How was your summer!??
Are you relieved your kids are back in school?
Or is this your first time sending your oldest off to school?
This year I'm finding out what's the toughest, sending the oldest for the first time, or sending your youngest for the last time… yikes.
So in honor of back to school… it's time to be getting into crafts with back to school theme!
With these crafts you can get your preschooler working on those cutting skills!
And they get to be creative and make a work of art instead of just another worksheet.
That makes these back to school crafts a cut above the rest, right? (Ha. You like that play on words there?)
So, when I think of back to school, I think of 3 main things:
back to school supplies and classrooms (pencils, books, crayons, buses, backpacks, the school)
apples for the teacher
and learning their name.
Back to School Crafts with Cutting Practice
Shopping for supplies doesn't have to be all hard work. Make it fun by using them to make some of these fun back to school crafts!
From crayons to pencils to the school bus your child will ride on, these crafts all have a cutting element to help their cutting skills!
Find more Back to School Craft here!
How about these apples for some back to school crafts?
Make an apple for the teacher, or just for some good ol' fall decorations, and practice cutting along the way!
All of these apple crafts have cutting that your preschooler can do!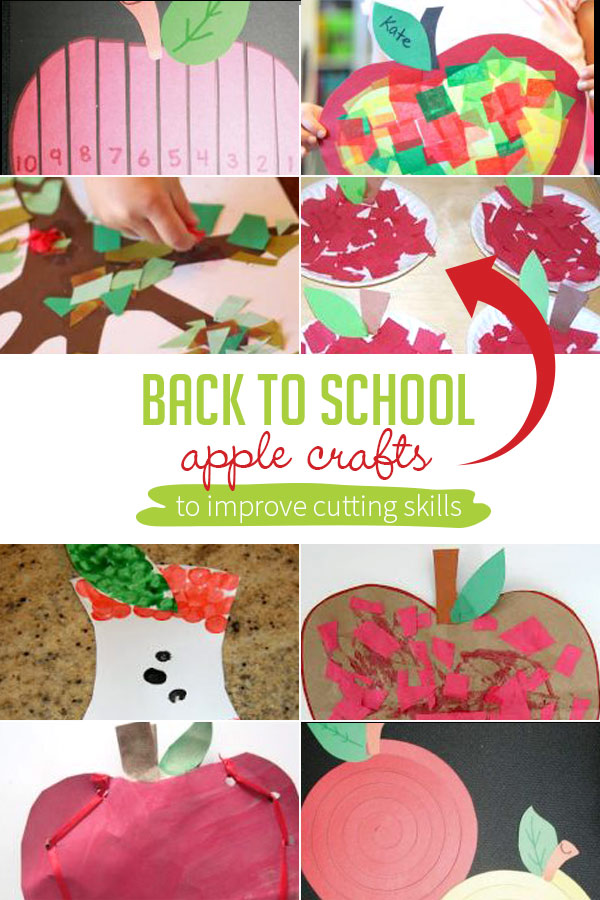 Click here for more back to school apple crafts!
Name Activities That Work on Scissor Skills
The main thing preschoolers learn during the year is how to spell their name!
Kick off the year with these cute name activities that also work on cutting skills!
They'll be snipping out paper in no time!
Find lots of Name Activities for Preschoolers here
Is cutting new for your preschooler?
If your child is new to cutting activities, please read our tips for cutting at the bottom of this linked post.
Go ahead and share these back to school cutting crafts and activities!
Thank you!