BlogHer
Parenting
SensoryKindergartnersGrade SchoolPreschoolersKitchen336 Comments
The stove is hot, there's a knife, the eggs will break… what in the world can I have my kids help me with in the kitchen?
Whether I'm baking or I'm cooking, my 5 year old is always there with his step stool to help.
I have a budding chef on my hands, George is actually really good help!
While my kids are not MASTERCHEFs (at least not yet!) they still love to help in the kitchen, and I'm quite surprised by what they can actually do if I just let them help.
7 ways my kids help me in the kitchen:
Cracking Eggs.
This is always scary and I was so nervous to let my kids try. But man, I think they can crack an egg better than I can once I gave them a chance.
Give them an egg and a dish and just show them how to crack it. Give it a gentle tape on the edge of the dish, or on the counter and open it up with their thumbs. Have a garbage nearby and a wet rag to wipe their hands.
Measure. Dump. Stir.
This is what my kids love to help with, no matter what. They fill up the measuring cup (if we're baking, they then level it off with a knife) and dump it in the bowl, mixer or pot, whatever it is we're using.
And they love to stir! It's something very basic that they can help with.
Reading Recipes.
My oldest is great at helping read the recipe for me. He reads the ingredients and how much to use.
My preschooler can tell me how many of certain items (he can't read fractions yet, but can read the whole numbers).
Browning Meat.
Browning ground beef is a favorite of my preschooler. It always makes me nervous over an open flame (we have a gas stove) and with the grease splatter. But he's very careful.
He pulls up his step stool and stirs the meat until all the red/pink is gone. Then I'll drain the fat off and continue on with the recipe (which he'll usually help measure, dump and stir).
Cutting Butter.
Knives and kids scare me, don't get me wrong. But I do think it's a fantastic skill for kids to learn (and how to properly use a knife). Start them out with a butter knife until you're more comfortable with it.
My kids do really well cutting butter up for dishes. Often it doesn't need to be cut into pieces. But it's something they can do to practice the skill while I work on something else in the recipe.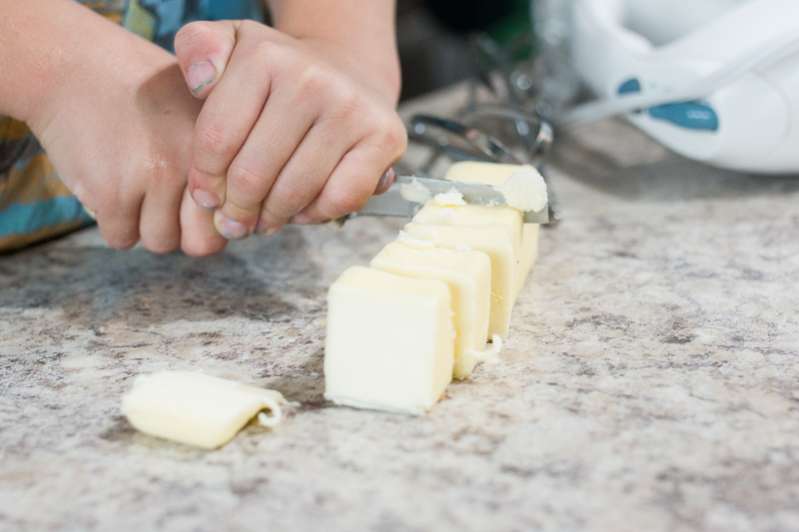 Kitchen Duties.
They don't necessarily get the dishes fully clean. But again, its something for them to do while I'm working in the kitchen, and it does help! The dishes always end up going in the dishwasher afterwards.
If they need something else to keep them busy, they can set the table, empty or load the dishwasher.
Even though the stove it hot, knives are sharp and the eggs will break, don't be afraid to let your kids help you in the kitchen by doing those very things!