Gross Motor
ScienceToddlersFree Play
Kitchen
Upcycle20 Comments
I think I can now be certified as a civil engineer.
What? Experience would be needed?
My Experience:
and the latest: Box Flap Bridges

I had a ton of box flaps that I cut off from a previous road project. (Ha, more experience!)
This time I thought some bridges would be fun to add in the mix.
I used clothespins to hold the flaps together.
(I chose clothespins because I thought Henry would like to help build the roads this time, but he wasn't into it yet. Maybe next time now that he's seen how its done.)
Henry stood up boxes so they were about as high as our play table.
Together we constructed a network of roads and bridges!
Henry tried out his vehicles on his new bridges, and Dad even joined in for awhile.
Caution:Weight limit on bridges.
My engineering may need work. Maybe I'll stick with being just the toy road expert.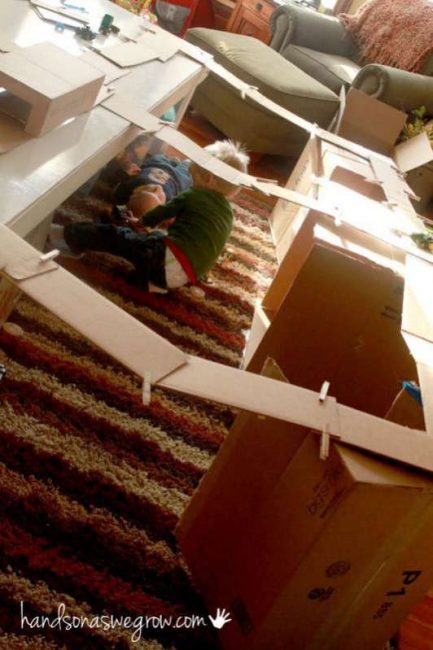 The bridges were used as a (roofless) fort too.
Henry played as much in the roads as he did on them.
---
Funny Faces!
(Idea from the Toddler Busy Book)
 (affiliate link)


I cut lots of eyes, noses and mouths out of a couple magazines to make funny faces!
I actually didn't get any pictures of Henry doing this.
The above pictures are faces I made before he started to show him what to do.
Henry only wanted to sort the facial features.
Henry also thought it was fun to tell me which lips were mine and which eyes were Dad's.
He kept having me hold them up to my face to decide if they were mine or not.
---
Ivory Soap Explosion!
I saw this great Ivory Soap Experiment over at Housing a Forest.
Be sure to check out that post because it includes a video of the entire experiment.
Henry may be in love with the microwave (just a little).
So this was sure to get his attention.
Here goes!
Put a bar of Ivory Soap in the microwave. (I'm not sure if other kinds work or not)
Just 2 minutes on High Power.
Watch….  Watch… Watch…


About 20 seconds in, it'll start growing!
Our soap didn't explode nearly as much as it did at Housing the Forest, but it was still nifty to see.
We then decided to stick the soap explosion under water.


The soap becomes very light and airy, so the water broke through and made holes right away.
At one point, we stuck it back in the microwave to see what would happen now that its wet… nothing.
Henry may have enjoyed the water part more than the microwave part!
He may have a little fascination with water, too.
Or the kitchen sink.